Megalithik Village Camp II
This project is part of the SCI North South Programmes. Volunteers should be 20 years old, have previous volunteering experience and take part in the Preparation Workshops organised by their sending branch. More details from your sending branch.

Camp code:
ID-PKB 12.1915
Topic:
12: Art, culture and local history
Work Types:
Cultural heritage
Free places for Females:
7
Free places last update:
22 Jul 2019
International age:
18 - 99
Extra fee to be paid in the hosting country:
220.00 Euro
Purpose of extra costs:
The cost will cover the accomodation, Food, Material of the project, IIWC-Tshirt and Certificate of participation.
Required Language:
English
Motivation letter:
This camp requires an additional motivation letter to explain in more detail why you would like to attend.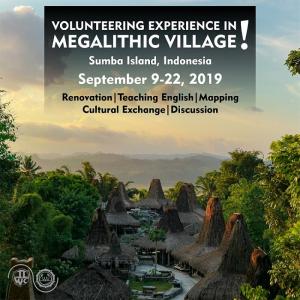 Description: Praijing Village Heritage Project located in Sumba Island. Praijing village is a traditional village, which you can find the traditional house. In Praijing village, we can find the uniqueness of the houses with the structure of the building that have meaning. The village has a lot of story and tradition that the local still apply it. Collaborated with local community and villagers, the aim of this project is to strengthen the capacity of local community in order to preserve their culture and promote the village in global level helped by volunteers to work together. Due to the frequent visitors come from local and foreigner everyday to this village, makes this village become one of the touristic village in Sumba.
Type of Work: • Creating Village Map: Volunteer will help local people to create map of their village to make good stucture of the touristic spot in order to help visitors understand the village better. • Reconstruction: Volunteer helps local people to renovate the public facilities around project site. • Historical Description: Volunteer helps locals to explain their local culture in the form of poster or brief narrative description. • School Visit: Volunteer will visit some local school to share the idea about volunteerism and aslo have some fun activities with the students such as cultural exchange , handicraft by using plastic grabage. • Social Inquiry: Volunteer has a chance to learn local culture by visiting neighborhoods in the project site.
Accommodation: The volunteers will stay in traditional house together with local people with shared toilet and bathroom. You will stay in Praijing Village, West Sumba Regency Follow this link to know how to use squad toilet (Link:https://goo.gl/Nf6G8c) . Beds are not provided. Need sleeping bag or mattress. Volunteers will join the daily team (Cooking, washing and cleaning team every day) which will be in shifts.
Language: English
Approximate Location: Prai Ijing Village, Desa Tebara, Waikabubak, West Sumba, Sumba island, Indonesia.
Organization Description: IIWC (Indonesian International Work Camp) is one of PKBI (Eng: Indonesia Planned Parenthood Association) program who deal with IVS movement since 1999.