This project is part of the SCI North South Programmes. Volunteers should be 20 years old, have previous volunteering experience and take part in the Preparation Workshops organised by their sending branch. More details from your sending branch.

Topic:
7: Children and youth
Work Types:
Work with children / Social
Free places for Females:
0
Free places last update:
02 Jul 2019
International age:
18 - 99
Extra fee to be paid in the hosting country:
3700000.00 Indonesian Rupiah
Required Language:
English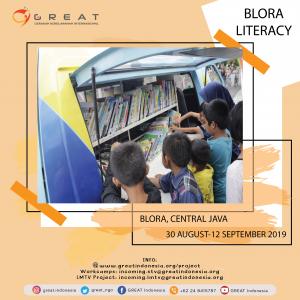 Description: Blora is a small town located in the eastern part of Central Java ProvinceIndonesia. It is also the hometown of noble candidate author Pramudya Ananta Toer which one of his worldwide book The Earth of Mankind has been translated in 33 languages. This small town is quite rural since it takes at least 4 hour by bus from Semarang city. This condition results limited access for Bloranese students for having opportunity to meet people from different cultures as part of global education. Some of GREAT volunteers are from this small town. Having strong motivation to open access for rural children to global education in non formal education approach and as IVS activists in Indonesia, they are eager to multiply the impact of international workcamp in their lovely little hometown. One public library
Type of Work: Volunteers are to work in team to create special performances to deliver message "I Love Reading". Join cultural night, Discussion, cooking session. Prepare yourself with facts about your origin culture and country to be shared with target groups.
Study Theme: Kids, Education, Social
Accommodation: House of local people. Volunteers will share together sleeping space separately between females and males. No bed. Need sleeping bag. Sharing bathroom. Self cooking by the volunteers. Volunteers will make common rules & daily teams for their collective living group. Water is limited in August – Sept in Blora, be ready for lack of
Language: English with other volunteers. Bahasa Indonesia and Javanese language with locals.
Requirements: Strong motivation and interest in literacy & non formal learning methods for kids
Approximate Location: Blora region, Central Java, Indonesia. Blora is endemic teak forest. Volunteers can visit the childhood home of Pramudya Ananta Toer. https://goo.gl/maps/9Ud5LngZ1vJ2
Notes: Weather can be up to 40 degree Celsius with 80% humidity. Less hygiene condition.