Animal sanctuary renovation works (Kleinlützel SO)
Topic:
11: Climate and sustainable lifestyle
Work Types:
Manual / Work with animals
Number of places still available:
0
Free places last update:
26 Jun 2019
International age:
16 - 99
Extra fee to be paid in the hosting country:
0.00
Required Language:
English
Spoken Language:
English, German
Child friendly camp
Yes (Minimum age: 0)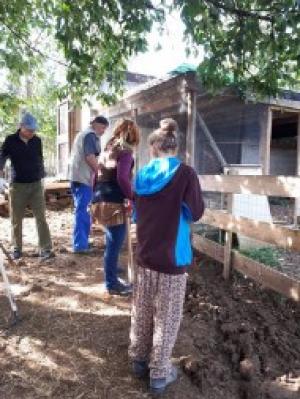 Description: The farm «Ring 105» is a living farm which provides shelter, affectionate and qualified care to animals in need of protection. Usually the animals stay on the farm until their lives come to a natural end. They shelter so-called domestic animals such as cats, birds, dogs or rodents as well as « animals for production » such as pigs, goats, sheep and so on. There is no commercial purpose to the farm; they are doing their work out of idealism and to meet the animals' interests. The farm is also involved in public relation work and tries to provide an insight into a way of peaceful cohabitation of humans and animals. They organise events, courses, training courses and visiting days.
Type of Work: - Conversion of the former repair shop into a common room with a sleeping floor
Conversion of the old grass silo facility into a sleeping area
Pasture care
Animal care
Study Theme: They can offer exchange and information about human-animal-environment relations. For this purpose, they can talk about their own animals' histories and provide information material such as films on ethics or human-animal relationship. They are experienced in having group seminars including outdoor educational elements and horsemanship (including our horses and mules); this could be a way to look at the human-animal issue from a different perspective. The farm is open to ideas and wishes from the participants and open for discussion with you! Time needed: 2 x 2-3 hrs
Accommodation: The farm offers tents that can be put up on a lawn at farm. There is a toilet, as well as a shower and a washing machine. Food for common meals can be bought together - there is a budget available; also, there is a shop in the village. Cooking facilities are provided; it is possible to cook lunch together.
Language: Local language is Swiss German
Notes: The farm stands for non-violence in any form to all animals. This includes a vegetarian/vegan diet, doing educational work and trying to set a good example. One of our main concern is to help promote understanding about human-human, human-animal and human-nature interdependency in local and global contexts. They rely on an ethical understanding that involves all life and teaches to respect other living beings.
Organization Description: SCI Switzerland is a non-profit-organisation which stands for intercultural exchange, sustainable development and non-violent conflict resolution. It is certified with the Intermundo-SQS-label, which guarantees high quality standards in youth exchange. SCI Switzerland has been organizing workcamps and long-term exchanges for volunteers worldwide since 1920. Each year, more than 100 volunteers from Switzerland engage in SCI projects abroad, while around 200 international volunteers work in projects in Switzerland. Swiss workcamps have a main focus on the work and exchange with children and youth living in asylum-seeking centres as well as environmental protection. In that line SCI Switzerland promotes a more environmental-friendly lifestyle in accordance with the goals of sustainable development. Therefore volunteers are expected to be aware of their environmental impact and encouraged to choose more eco-friendly means of transport. Please also check transportation costs within Switzerland before applying for our camps as this is expensive. Enter the place (to be found in the camp title) in the railway website www.sbb.ch. A participation in the camp from the first until the last day is needed for reason of instruction and group dynamic.