Climate4Peace Wikipedia Workcamp (St. Imier BE)
Topic:
11: Climate and sustainable lifestyle
Special Topics:
Climate for Peace Programme:
Work Types:
Peace / Study, discussion, research
Number of places still available:
0
Free places last update:
15 Apr 2019
International age:
16 - 99
Extra fee to be paid in the hosting country:
0.00
Required Language:
English
Motivation letter:
This camp requires an additional motivation letter to explain in more detail why you would like to attend.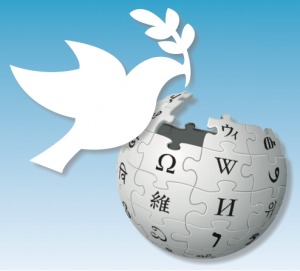 Description: The online encyclopaedia Wikipedia was started in 2001 and is today one of the most popular websites worldwide, being used by internet users all over the world for its open content created by volunteer writers. Around 50 million articles in 300 languages exist already. This camp is a cooperation between Wikimedia Switzerland, a local chapter of the non-profit Wikimedia Foundation, and SCI Switzerland. Similar cooperation happened in Austria and Germany between SCI and the local Wikimedia chapters before. We will get to know Wikipedia and other Wikimedia projects and will support the aim to make quality content about climate and social justice in the frame of the SCI campaign "climate4peace".
Type of Work: Translating and improving existing Wikipedia articles in your native language (or for skilled editors writing new articles). This year we will mainly translate and improve articles on climate and social justice: The project organizers will prepare a list of articles of movements and female personalities (for example women who won the 'Alternative Nobel Price'). It is crucial that you are interested in climate protection, social justice and peace issues and web culture, that you like writing and that you like to do research on your own and in groups. You don't have to have knowledge on Wikipedia already.
Study Theme: There will be a big emphasis on studying in this workcamp. We will learn how to write good Wikipedia articles and take pictures for Wikimedia projects. We will learn about the principles behind Wikimedia projects as well as free licences/open content philosophy in general. We will learn about climate and social justice and its connection to peace - through your own research, through exchange with other participants and through external inputs.
Accommodation: We will intentionally live a simple and sustainable lifestyle during the workcamp. The old art-nouveau villa houses up to 16 people and provides workshop rooms, the kitchen and social living space. There are dormitory rooms with beds, blankets and pillows. Meals will be vegan; SCI volunteers are in charge of cooking and cleaning. Please be aware that the house is rather cold and there is a dog and a cat.
Language: We will speak English in the group. You can write Wikipedia articles in any language you want. We encourage you to write in your native language. The people of the hosting community speak German, French, Spanish, Serbo-Croatian and of course English. The local language is French and Swiss German.
Requirements: Since this workcamp is supposed to be as environmentally-friendly as possible, we kindly ask you not to arrive via plane, but to look into other modes of transport. Please write a motivation letter to specify your interest in this work, your plan for follow up work after the camp and how you intend to travel to the camp.
Approximate Location: Mont-Soleil is a small hamlet at the edge of the Franche Montagne high-plateau in the Jura mountains of Switzerland. It is part of the community of St-Imier.
Notes: Take a look at last years workcamp: https://www.youtube.com/watch?v=n0sgq1wyNC8
Organization Description: SCI Switzerland is a non-profit-organisation which stands for intercultural exchange, sustainable development and non-violent conflict resolution. It is certified with the Intermundo-SQS-label, which guarantees high quality standards in youth exchange. SCI Switzerland has been organizing workcamps and long-term exchanges for volunteers worldwide since 1920. Each year, more than 100 volunteers from Switzerland engage in SCI projects abroad, while around 200 international volunteers work in projects in Switzerland. Swiss workcamps have a main focus on the work and exchange with children and youth living in asylum-seeking centres as well as environmental protection. In that line SCI Switzerland promotes a more environmental-friendly lifestyle in accordance with the goals of sustainable development. Therefore volunteers are expected to be aware of their environmental impact and encouraged to choose more eco-friendly means of transport. Please also check transportation costs within Switzerland before applying for our camps as this is expensive. Enter the place (to be found in the camp title) in the railway website www.sbb.ch. A participation in the camp from the first until the last day is needed for reason of instruction and group dynamic.