Awareness campaign and education on illegal immigration
This project is part of the SCI North South Programmes. Volunteers should be 20 years old, have previous volunteering experience and take part in the Preparation Workshops organised by their sending branch. More details from your sending branch.

Topic:
2: Refugees, immigrants and ethnic minorities
Work Types:
Social / Study, discussion, research
Free places for Females:
7
Free places last update:
29 Apr 2019
International age:
18 - 99
Extra fee to be paid in the hosting country:
200.00 Euro
Purpose of extra costs:
The 200€ paid by the volunteers will be used in this following way: - 2/3: organization of the workcamp (accomodation, food, water, materials, transports) - 1/3: administration fees
Required Language:
French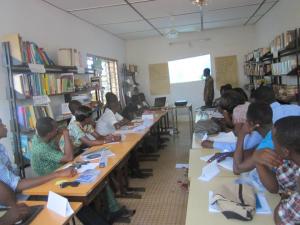 Description: Today there are many young Togolese who try or want to go through the Sahel countries and challenge the waves of the Mediterranean with pirogues or makeshift boats to find the shores of Europe. Unfortunately this perilous and fatal adventure continues to cause desolation within families because there are some of these young people who do not cross this "imaginary Eldorado" and perish in the Mediterranean. The wave of illegal or irregular migration has taken on unprecedented proportions in the recent years.Through this summer camp, ASTOVOT wants to contribute in its own way to inform and raise awareness through actions and to support young people on the difficulties of irregular immigration. For this purpose, it intends to conduct awareness campaigns to discourage prospective immigrants.
Type of Work: The implementation of the project will consist of researching, designing and animating contents describing the migrants' experiences during their journey:
Volunteers do research and organize debates with the young on immigration issues
Volunteers will make collections of photos, documentary films and testimonies showing the dangers of illegal immigration
Volunteers will show photos, documentary films and testimonials in public squares in different districts of Kpalimé City to attract the attention of a large number of people
Volunteers will organize talk shows on Kpalime's local radio stations to raise awareness of the issues and dangers of irregular immigration
Volunteers will produce awareness posters
Volunteers will produce and present skits to raise awareness
Study Theme: - Organize information and awareness sessions in neighborhoods for young people through football matches
Make presentations of films and documentaries illustrating the dangers of illegal immigration
Organize roundtables: exchange of experiences between international volunteers and local volunteers
Accommodation: The volunteers will be housed together in the same house with several rooms (usually 2 to 4 rooms) and will live near the project site. Housing will be provided with plastic mats or straws but volunteers can however provide small inflatable mattresses or small floor mats (no bed), sleeping bag, mosquito nets etc. The kitchen will be organized by the volunteers themselves. FOOD
Volunteers will cook and eat together their meals. In the kitchen, they will use the local products. There are many various vegetables and fruits in location, so vegetarian and vegan diets can be continued.
Language: The languages of the workcamp are English and French. But it's important to note that the exchanges in English are very basic.
Approximate Location: LOCALIZATION OF THE PROJECT Located 120 km north of Lomé, the town of Kpalimé is the perfect place for nature lovers and hikers who want to go to discover beautiful mountain landscapes and tropical flora. Many natural waterfalls will allow you to cool off at the edge of the water. Kpalimé is also home to the most important handicraft center in the country where a large number of artists and artisans have settled. With around 101 088 inhabitants, Kpalimé is a tourist town in the Plateaux region.
Notes: NB: Clean drinking water available. Internet access and electricity are limited according to the areas of intervention of the projects.
HOBBIES Apart from the activities to be carried out on the building site, you can enjoy walks, meetings with the particularly welcoming population, organize parties and excursions to visit the surrounding villages.