Organizing activities for the asylum seekers from Florennes center
Country:
Belgium - French speaking
Topic:
2: Refugees, immigrants and ethnic minorities
Work Types:
Work with children / Social / Sport
Number of places still available:
0
Free places last update:
06 Aug 2019
International age:
20 - 99
Required Language:
French
Spoken Language:
English, French
Motivation letter:
This camp requires an additional motivation letter to explain in more detail why you would like to attend.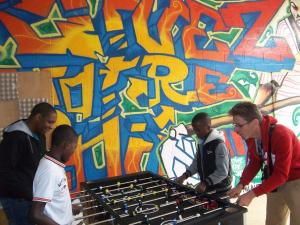 Description: The center of Florennes is an open center for asylum-seekers. The residents of the center benefit from social and material assistance as well as medical care during the waiting period of their application for asylum (in order to be recognized as a refugee). The center hosts 530 people from various origins (mainly men). This number is less than last year due to the increasingly restrictive migration policies. The staff has to manage still a lot of people, with little financial means... The aim of the project is to propose activities to the residents of the center (kids, women, men), and to promote intercultural dialogue.
Type of Work: This year the volunteers will realise activities also in Dharma City, a buddhist center where they will be staying.
At Dharma City -Community work from 9h30 to 11h30 with the support of people from the center. Tasks include mainly cleaning, help in the kitchen and eventually gardening.
At the Asylum Seeker Center of Florennes The volunteers will also participate in the activities of the center that start around 13h and finish around 17h. The group can realise activities for the residents of the center. (children, young mother...) it can be creative workshops, cooking, games, workshops for environmental sensibilisation, going to the pool, sports etc
Study Theme: Migration issues and asylum procedure in Belgium. The first day, a training about living an intercultural experience will be proposed to the group.
Accommodation: Accomodation in buddhist center Dharma City in Florennes. There are matresses and blankets available for volunteers and access to toilets and showers. Lunch and dinner will take place in the Fedasil center -it will be possible for the volunteers to benefit from the community kitchen. The vegeterian restaurant in Dharma city will also be accessible to the volunteers (21:00-21:30).Volunteers are expected to be back in the accomodation around 21:30 and 22:00 every day.
Language: Basics of French are required. Asylum seekers do not all speak English.
Requirements: A motivation letter is requested for this camp (in English or in French). The minimum age is 20 years old. For volunteers motivated by organizing activities. Volunteers with skills in sport or art are particularly welcome. The workcamp can be psychologically tiring (proximity with the residents).
Approximate Location: Florennes is a village located in the South of Belgium, 25 kilometers away from the cities of Charleroi and Namur in a rural area. The volunteers will be able to move between the asylum seeker center and their accomodation using bicycles
Notes: For your information, the budget granted to the Centers for Asylum Seekers were drastically reduced in 2014. Volunteers are then encouraged to realize activities at a lower cost and those who want are welcome to bring material with them. Moreover, volunteers will eat the same food than the residents. The budget for the food is very restricted, which can be an issue for some volunteers (very simple food, not very various). Please take some food with you if you think it can be a problem. It will be also possible to access a kitchen if the group wants to cook. Not accessible to wheelchairs. For more information on the center: http://fedasil.be/fr/center/florennes