Get ready for Life (Berge)
Topic:
7: Children and youth
Work Types:
Agriculture / Work with children / Study, discussion, research
Number of places still available:
2
Free places last update:
29 Jul 2019
International age:
18 - 99
Extra fee to be paid in the hosting country:
0.00
Required Language:
English
Spoken Language:
English, German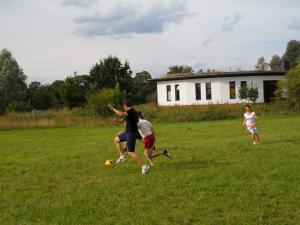 Description: The Brandenburg Youth Centre is a development facility for underprivileged young people from 13 years onwards, some of whom refuse to go to school, were in trouble with authorities or suffer from psychological problems. The project offers them the opportunity to (re)integrate into society. They live in family-like structures and are being prepared for jobs through development programmes on ecological farming and construction, kitchen work and in a wood workshop. Therefore the Youth Centre includes an ecological farm with grain farming, meadows, constructed wetland, wind power station and various biotopes that need taking care of. An environmental education seminar house,a multipurpose hall and various sports facilities are also part of the project.
Type of Work: In small groups, in the stables and the garden, kitchen work, wood work and harvesting, together with the young people from the project. You will work for 8 hours per day on 4 days a week, no work on Fridays and the weekends!
Study Theme: The group can decide which topics to focus on in the area of ecology (ecological farming, ecological house-building, use of renewable energies, environmental technology) and social topics (social reintegration, horse-based therapy).
Accommodation: In two rooms in the seminar-house of the project on camp-beds. Meals are provided by the youth centre on the 4 work days, self-catering in the evenings and on the free days.
Requirements: Interest in contact and common free-time activities with the youth! Knowledge of German is useful but not necessary.
Approximate Location: Berge is located close to Berlin, the capital of Germany. There are a lot of free-time activities in and around the city. Berlin is definitely worth to visit, considering its important function during the Second World War and during the time of the Berlin wall.
Notes: Alcohol and drugs are forbidden in the project! Many free time facilities: swimming, horseback riding, tours by bike, football, basketball, trips to Berlin and Potsdam are possible. Further information here.
Organization Description: This workcamp is organized by the German branch of Service Civil International (SCI). SCI Germany was founded in 1946 and is approved as a non-profit organisation. We are one of the oldest peace and volunteer organisations. SCI Germany aims to promote peace, non-violence, international solidarity, social justice, sustainable development and cross-cultural exchange through international voluntary work. We cooperate with a network of branches and partners in more than 90 countries. Every year, SCI Germany organizes about 50 international workcamps in Germany.