Animation of children in Brussels, Don Bosco
Country:
Belgium - French speaking
Topic:
7: Children and youth
Work Types:
Work with children
Number of places still available:
0
Free places last update:
09 May 2019
International age:
18 - 99
Extra fee to be paid in the hosting country:
0.00
Required Language:
French
Motivation letter:
This camp requires an additional motivation letter to explain in more detail why you would like to attend.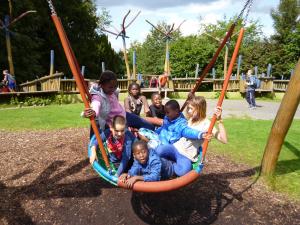 Description: "Don Bosco Télé Services" is a youth center located in a popular district in Brussels, which organizes different types of activities throughout the year (creative workshops, school support, sport…) for children and youngsters coming from this district, mostly from immigrant origins.
Type of Work: In the morning, volunteers will prepare activities for children aged 6 to 12, and in the afternoon, they will lead the activities. The activities might be art and craft, cooking, sport, daily trip to the countryside or the seaside, games…
Study Theme: Immigration and integration issues
Accommodation: Volunteers will sleep in a big room of Don Bosco Centre. The conditions will be quite basic.
Language: Good knowledge in French is COMPULSORY to communicate with children and prepare the activities with the staff.
Requirements: A motivation letter in French is required for this camp. Experience in leading children groups and creativity are assets. It is important to arrive on Monday the 19th because a visit of Brussels is organized the day after by the staff of the center.
Approximate Location: In the center of Brussels
Notes: No accessible to wheelchairs more information : https://donboscoteleservice.wordpress.com