Get in Contact with the Youth (near Berlin)
Topic:
7: Children and youth
Work Types:
Work with children / Social
Number of places still available:
1
Free places last update:
04 Jul 2019
International age:
18 - 99
Extra fee to be paid in the hosting country:
0.00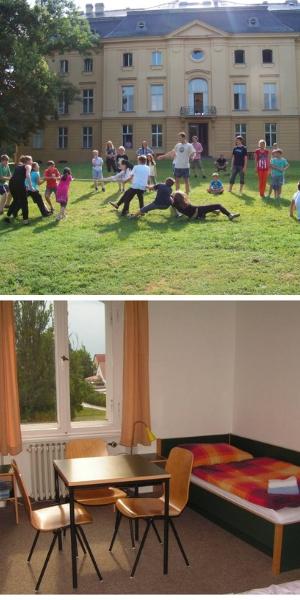 Description: The Trebnitz Castle is a meeting place for people who want to exchange thoughts on cultural and political issues. The focus of the project lays on the cultural and political education. The castle has been awarded with the German-Polish award in 2014, honouring its effort and engagement concerning the intercultural exchange between Eastern and Western Europe. Trebnitz castle offers many different projects all dealing with social, cultural and political issues.
Type of Work: The main focus of the camp is creating free time activities for children coming from the region of Brandenburg and from Poland. Moreover, there will be various creative workshops, like sport competitions, games and free time activities. Planned is also a discussion on the complex situation considered international youth work and the german-polish border region in an interactive form of learning-by-doing. The project will be carried out in cooperation with the Museum Gustav Seitz, which is located within the castle property. Parallel to the workcamp, a German-Polish sculptor Pleinair is planned. The children will be allowed to look over the artists' shoulder. Additionally artists will probably offer workshops for children.
Study Theme: Educational, pedagogical and intercultural topics; exchange projects in the Polish-German border region; language animation
Accommodation: In the castle, including full catering; in the evenings and weekends there is the possibility to have a barbecue, to bake in the clay baking oven in the castle park or to make a campfire
Requirements: High motivation to get in contact with the children and young people and create a good time for them!
Approximate Location: Trebnitz is located about 70 km from the centre of Berlin (one hour by public transport) and 30 km from the Polish border. It is offering educational supplies mainly to young people but also seminars and further training courses to adults.
Notes: Many freetime possibilities: swimming, tours by bike. Area studies and excursions to Berlin, Frankfurt/Oder, Buckow or Poland are possible. Knowledge of German useful! Further information: http://www.schloss-trebnitz.de and http://www.schloss-trebnitz.de/ein-ort-fur-die-kunst/
Organization Description: This workcamp is organized by the German branch of Service Civil International (SCI). SCI Germany was founded in 1946 and is approved as a non-profit organisation. We are one of the oldest peace and volunteer organisations. SCI Germany aims to promote peace, non-violence, international solidarity, social justice, sustainable development and cross-cultural exchange through international voluntary work. We cooperate with a network of branches and partners in more than 90 countries. Every year, SCI Germany organizes about 50 international workcamps in Germany.