Review to Mittelbau-Dora - Don't Look Away (Nordhausen)
Topic:
1: Antiracism, antifascism, remembrance
Special Topics:
No more war!
Work Types:
Manual / Peace / Study, discussion, research
Number of places still available:
9
Free places last update:
11 Jul 2019
International age:
18 - 99
Required Language:
English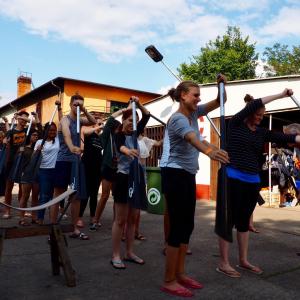 Description: "Dora" was founded at the end of August 1943 as a subcamp of Buchenwald concentration camp. The concentration camp inmates were forced to reconstruct a big tunnel system into a new underground rocket factory in Kohnstein Mountain near Nordhausen so that the Nazis could relocate their rocket armament to the Southern Harz mountains. Concentration camp inmates were housed in underground facilities for months. It was not until spring 1944 that an above-ground barrack camp was built to accommodate them. Between 1943 and 1945, some 60,000 persons from nearly all countries of Europe were deported to the Harz Mountains as concentration camp inmates. One out of three died while being forced to work for the German armament industry.
Type of Work: Work at the area of the former inmates' camp; uncover the foundations of a former barrack: work outside with big stones, partly cutting stones to build small stone packing walls to show the outlines of the former buildings, cut bushes, paint trees. You see the result from last years in the pictures. The work is outside, but you have sun-protection by big trees.
Study Theme: History of the concentration camp and its subcamps, relocating armament production to underground facilities.
Accommodation: Youth hostel of the Protestant Church of Nordhausen-Salza (by bike approximately 10-15 min from the memorial); self-catering (supermarkets are nearby); WIFI is only available at the memorial site.
Requirements: Interest in the history of concentration camps; good knowledge of English language; to be able to ride a bike in the road traffic is a serious requirement!!! It is not possible to come earlier or stay longer than the given dates.
Approximate Location: Nordhausen is located at the southern edge of Harz mountains in Thuringia, about 110 km east of Kassel.
Notes: Public open-air pool 10 min from the hostel! Trips to the Harz mountains and Kyffhäuser Memorial are possible; bicycles are available.
Organization Description: This workcamp is organized by the German branch of Service Civil International (SCI). SCI Germany was founded in 1946 and is approved as a non-profit organisation. We are one of the oldest peace and volunteer organisations. SCI Germany aims to promote peace, non-violence, international solidarity, social justice, sustainable development and cross-cultural exchange through international voluntary work. We cooperate with a network of branches and partners in more than 90 countries. Every year, SCI Germany organizes about 50 international workcamps in Germany.