Topic:
4: Peace and disarmament
Special Topics:
No more war!
Number of places still available:
1
Free places last update:
20 Jun 2019
International age:
18 - 99
Child friendly camp
Yes (Minimum age: 0)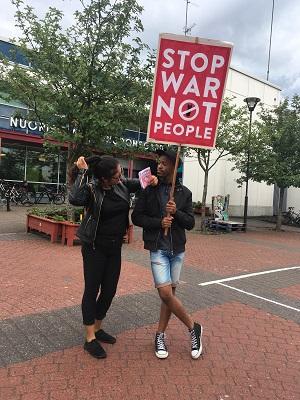 Description: Food Not Bombs is an international campaign that works in hundreds of cities around the world. Food Not Bombs is trying to inspire the public to participate in changing society by helping concretely and to focus the resources on solving problems like hunger, homelessness and poverty while seeking an end to war and the destruction of the environment. It works by giving out vegetarian meals in public places to anyone in need.
Type of Work: During the camp six meal sharing events around Helsinki will be organized. The volunteer tasks include cooking the meals, taking it to the place of the event, giving it out and cleaning up afterwards. Other tasks include participating in the PR of the meal sharing events and getting food donations. No special skills are needed.
Study Theme: There will be discussions on the history and ideology of the Food Not Bombs campaign, nonviolence, vegetarianism and social problems in Finland.
This workcamp is part of the worldwide "NO-MORE-WAR!" campaign of diverse voluntary service organisations who have united together to highlight and practice pacifism and non-violence. We promote a future of peaceful cooperation where armed forces will no longer be necessary.
Accommodation: The volunteers will live at the Peace Station in Helsinki, where many peace organisations reside. The accommodation is simple and a sleeping bag is required, as volunteers will sleep on mattresses in a shared space. There are bathrooms, kitchen, shower and sauna for the volunteers to use. The food will be mainly the same that is offered in the events around town. All the food is vegetarian.
Language: English
Requirements: Extra motivation letter is required. Volunteers should be interested in antimilitarism, nonviolence and peaceful conflict resolution.
Approximate Location: Helsinki
Notes: The accommodation facilities and the nature of the work might prove difficult for a person with physical disabilities. Families can apply to the camp if the lack of privacy in accommodation is not a problem.