Saparomäki farm animal rescue
Topic:
11: Climate and sustainable lifestyle
Work Types:
Construction / Manual
Number of places still available:
2
Free places last update:
09 Jan 2020
International age:
18 - 99
Child friendly camp
Yes (Minimum age: 6)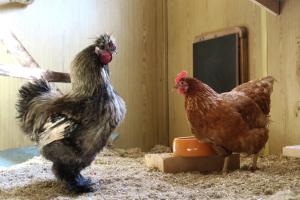 Description: Saparomäki Farm Animal Rescue is situated in Porvoo, in Southern Finland, 52 km from Helsinki. The name of the place, Saparomäki, translates as a "pig tail hill". The community members are building a sanctuary for previous farm animals who otherwise would be sent to a slaughterhouse. Since the sanctuary is just taking its first steps, there are only chickens at the moment, but more animals will arrive after the shelter is finished during the year 2019.
Type of Work: Volunteers of the camp are going to help the community mainly with building and painting a new animal shelter. Work will be done together with the other volunteers of the community. Volunteers will also take care of their own cooking.
Study Theme: During the camp the volunteers will learn about ethics in animal keeping; animal rescue and vegan food ideology. It's also possible to go and visit the beautiful Porvoo old town.
Accommodation: In shared rooms in a farmhouse with 2 bedrooms, a living room and a kitchen. All cooking will be purely vegan food.
Language: English
Approximate Location: Porvoo surroundings, about 1 hour from Helsinki.