Building Bridges in Kobraland #2, Donja Toponica (Nis)
Topic:
13: Community life
Work Types:
Agriculture / Environment / Manual
Free places for Females:
0
Free places last update:
30 Apr 2019
International age:
20 - 99
Extra fee to be paid in the hosting country:
30.00 Euro
Purpose of extra costs:
The fees will be used as support to camp budget for obtaining food and materials for work.
Required Language:
English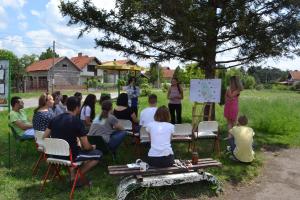 Description: This workcamp is the first of several the local NGO "Grupa Kobra" is going to organize this year aiming to provide the conditions for their activities and further development in the future. This will build the basic for the future work in the youth centre "Kobraland" which is very important for the local community. The volunteers will renovate the house of the youth centre "Kobraland", in order to become functional and sustainable. One long-term volunteer from France and local volunteers will contribute with their ideas and work. The local partner organization "Grupa Kobra" has put a lot of effort in the past years in developing and improving life conditions of its small community concerning its environmental protection and encouraging youth activism in this rural area.
Type of Work: The work will be consisted of three parts where volunteers will: Manual: install the summer terrace and open kitchen outside, installation of a fence and construction of a stage in the open air. Agricultural/Environmental: plant the organic garden in the garden of the Kobraland and they will be cleaning the space inside the Kobraland. Artistic part: will paint out the front wall in the "Kobraland", using their creativity and ideas.
Study Theme: There will be organized a visit to the historical sites in the city of Nis (the birth place of the Constantine the Great) and other interesting excursions.
Accommodation: The volunteers will be accommodated in a house inside the "Kobraland", sleeping on mattresses and in sleeping bags (which are provided for the volunteers). The space has necessary facilities needed for the camp. Small kitchen and small bathroom with shower. Volunteers will cook for themselves in shifts from the material provided.
Requirements: It is expected from participants to be creative and team players and to be ready for manual and physical work.
Approximate Location: Donja Toponica is a small village 15 km away from the third biggest city in Serbia, Nis.
Organization Description: Young Researchers of Serbia is a Serbian non-profit, non-governmental organization founded in 1976, whose vision is to be the driving force for all those whose aim is to make our planet a more peaceful, just and healthy place. Driven by science and education, their mission is to contribute: • to environmental protection and nature conservation, • to development of volunteerism and its values, • to scientific creativity and active youth participation www.mis.org.rs