Topic:
11: Climate and sustainable lifestyle
Free places for Females:
1
Free places last update:
31 May 2019
International age:
18 - 99
Required Language:
English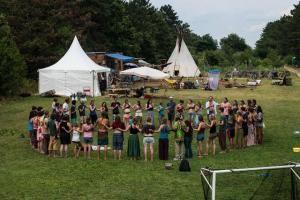 Description: We will work for the Partycipation Festival (www.partycipation.at) during the preparation, the festival itself and the removing. The festival itself lasts one week. On the first four days there will be long-lasting workshops about sustainable and eco-topics for the festival participants only (participation of volunteers is not possible). On the last three days there will play music bands and in addition to that small workshops will take place that volunteers can join in their spare time. It's a small festival. In total there are expected to come around 400 people during the whole week. We try to be as sustainable as possible (for example only organic food, small waste production with separated waste collection, organic cleansing material …
Type of Work: During the preparation phase, we will create the festival location (construct tents and stages, decorate the area etc.) and cook together. During the festival we will help for example with cooking, keeping the area clean and working at the bars. In the ending phase everything has to be cleaned and deconstructed. Other work could be mowing the grass or collecting wood for the bonfire. If you like doing some physical labour and being outdoors you are right here. If you have special skills or anything else you would like to contribute to this special event, let us know. We don't expect you to have special skills or experience in this working field. Since we maybe work outside on rainy days (that hardly occurs), the most important thing for us is that you have working motivation!
Study Theme: Partycipation can be considered a social experiment. Our key issues are sustainability in practice, creativity and the motivation and empowerment of people of all ages. The whole event is mainly carried out through passionate voluntarily working people who share the vision to create a sustainable world, where people can live together in an ecological and social community way. We see working mistakes as a chance to improve ourselves and act very respectful and heedful with each other. Spreading love is one of the key elements you will learn if you stay with us.
Accommodation: You can sleep at site in a tent in our own camping area (In case of really bad weather, there is a room nearby for shelter and sleeping.) At the festival site we have compost toilets and outdoor showers (cold water - very refreshing during the summer day!). There are also water toilets and warm showers which we can use in a communal house nearby.
Language: English, German
Requirements: Moreover, you should bring working clothes, working shoes, a raincoat, a swimsuit, sun protection and your instrument, if you like to jam with us! If you require any medicaments (e.g. because of an allergy), don't forget to bring them with you. And of course, don't forget motivation and energy!
Approximate Location: The festival site is located just 30 minutes from Vienna, in the middle of the sunny Marchfeld! Thanks to our collaboration with two co-housing eco-projects (Ökosiedlung and Lebensraum) we can use their beautiful grassland area which is calmly surrounded by a little forest.
Notes: In the evening there will be nice campfires to come together and relax. Of course you will also get some time off and be able to enjoy the festival! Be aware that it is not possible for you to join the long-lasting workshops as you will support us at that time in other areas. It will be possible to join some short workshops in your spare time in the second part of the festival. We will build up an outdoor kitchen where we will cook for everyone during the whole festival. We cooperate with local farmers and will get fresh organic food. All meals at the festival site will be vegan or sometimes vegetarian with vegan options.
Organization Description: SCI Austria is the Austrian branch of Service Civil International, founded in 1947 and based in Vienna. We are mainly volunteers who have been on international workcamps ourselves and who want to organize meaningful and critical projects in our country as well.