Topic:
12: Art, culture and local history
Work Types:
Environment / Restoration, renovation
Free places for Females:
6
Free places last update:
14 Feb 2019
International age:
18 - 99
Extra fee to be paid in the hosting country:
0.00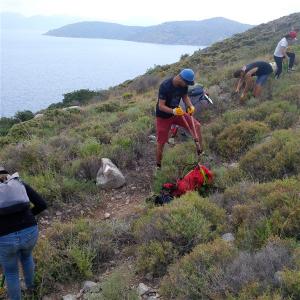 Description: This is a unique work camp for nature-lovers and back-packers that hosted by Cultural Routes Association ( http://cultureroutesinturkey.com/society-news/28683/ ) We invite you to walk through a very beautiful landscape, amazing views and a wonderful nature. Carian Trail is Turkey s longest footpath passing through villages, beaches, ruins and rugged coastline around the southwest corner of Turkey. This spring, a group of international volunteers will be cleaning parts of the walking route mainly on the coastline for 3 weeks. The work consists of clearing lots of scrub, waymarking and making paths. Volunteers need to be prepared to walk several kilometres during the work each day and to work with sharp tools. You should bring old clothes, gloves and good boots. There will be a GHD leader and a local leader who speaks Turkish-English. There may be other local helpers as well on some days.
Type of Work: Clearing scrub and bushes on paths. Waymarking, route-clearing, garbage-collection along the walking route. We would also like someone to photograph or film activities on the route and make a blog or short film.
Accommodation: A: Mostly wild camping (sometimes on beaches) in tents that will be supplied or sometimes a village house or pension. Sleeping-bag, and mat are necessary; you can bring your own tent if you like. F: Materials and food will be supplied by the organizers or local authorities. Volunteers will be responsible for preparing meals for the group by daily turns.
Language: eng,tur
Requirements: A motivation letter proving the interest and commitment of the volunteer.
Approximate Location: A great majority of the route follows the coastline passing through small villages. On your off days, you may be able to visit town centers, beaches or ruins.