Back to the Roots I (Bernkastel-Kues near Trier)
Topic:
11: Climate and sustainable lifestyle
Work Types:
Agriculture / Environment / Restoration, renovation
Number of places still available:
3
Free places last update:
01 Jul 2019
International age:
18 - 99
Required Language:
English
Spoken Language:
English, German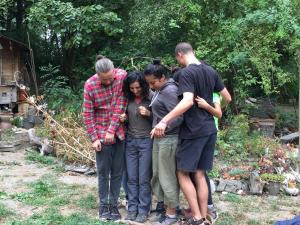 Description: In the age of climate change and global injustice, we ask ourselves if we have to change our consumption-oriented and resource-wasting lifestyle. A person who practices a consistently natural life is Friedmunt Sonnemann. He owns 4 hectares of land, situated in a forest near the small wine and tourist town of Bernkastel-Kues. He cultivates plants which are threatened or endangered and sells the seeds to various garden plot holders. The hut where he resides has neither a water pipe nor electricity, and the road leading to it is not paved. Life in this remote area (it is a one-hour walk uphill from the village) is not suitable for everyone, so the volunteers must be able to adapt to simple living conditions, live an organic lifestyle and be willing to avoid waste. Challenge accepted?!
Type of Work: Depending on the weather conditions: working in the fields (cultivation, weeding); construction of the house - with loam and straw and other manual work.
Study Theme: Botany; discussions about the extinction of rare crops.
Accommodation: Living room, spring water and a telephone are available. You will be accommodated in the barn, which has a kitchen to cook; compost toilet.
Only vegetarian food!
Requirements: Ability to adapt to very basic conditions and to work physically 6 hours per day
Approximate Location: Bernkastel-Kues is located in the Hunsrück Mountains at the Mosel River in the west of Germany between the cities of Koblenz and Trier.
Notes: Leave your phone at home and experience life without internet access and a permanently tinkling device! Please carry a backpack instead of a trolley case, since you need to walk 1 hour to your camp.
Organization Description: This workcamp is organized by the German branch of Service Civil International (SCI). SCI Germany was founded in 1946 and is approved as a non-profit organisation. We are one of the oldest peace and volunteer organisations. SCI Germany aims to promote peace, non-violence, international solidarity, social justice, sustainable development and cross-cultural exchange through international voluntary work. We cooperate with a network of branches and partners in more than 90 countries. Every year, SCI Germany organizes about 50 international workcamps in Germany.