Michałowice (near Warsaw)
Topic:
7: Children and youth
Work Types:
Art / Teaching / Work with children
Free places for Females:
0
Free places last update:
18 Jun 2019
International age:
18 - 99
Extra fee to be paid in the hosting country:
0.00
Required Language:
English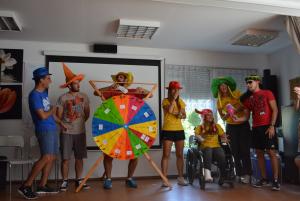 Description: This year, for the seventh time, the Michałowice community will be hosting an international group of volunteers during a workcamp at Opacza Kolonia. Volunteers, together with Polish educators, will organize various workshops for a group of local children and young people, who are mostly unable to spend holidays outside their place of living due to their material and family circumstances. It will be the only opportunity for them to meet people from different countries and spend interesting holidays. Our goal is to encourage them to speak English and show them other cultures and traditions.
Type of Work: Volunteers will be responsible for organizing games and workshops for children from 6 to 13 years of age, such as sports activities, games, art classes and cleanup after activities. Volunteers will be working 6 hours a day from Monday to Friday; children arrive around 9 am and leave at 3:00 pm. Sometimes, in the afternoon, volunteers will be asked to prepare activities for the next day of the summer camp.
Accommodation: In a separate municipal building, a small newly renovated house with 2 bedrooms, terrace, 2 bathrooms (but only one with shower and washing machine) and kitchen.
Language: English
Requirements: interest in working with children, creativity, enthusiasm, responsibility, positive energy. Your own ideas for classes and activities with children are welcome! All accepted volunteers are required to submit a criminal record check BEFORE arrival.
Approximate Location: Opacz Kolonia, on the outskirts of Warsaw, 12 km from the city center (15 minutes by train to the city center).