Social animation with disabeld people in the North of France -1
Topic:
9: People with disabilities
Work Types:
Work with people with disabilities / Medical / Social
Number of places still available:
0
Free places last update:
04 Jun 2019
International age:
20 - 99
Extra fee to be paid in the hosting country:
0.00
Required Language:
French
Motivation letter:
This camp requires an additional motivation letter to explain in more detail why you would like to attend.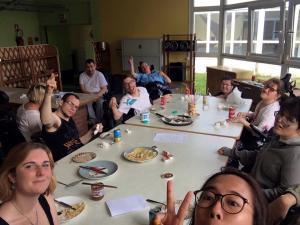 Description: The Association of Paralysed France (APF) was founded and established in 1933 by four individuals who had been diagnosed with polio. They formed the association in response to the social exclusion and isolation of which they had been victims of. The now state-approved APF is a national association of defence and, to this day, aims to represent and empower individuals with motor disabilities and multiple disabilities. The APF in France consists of 26,000 members, 30,000 users, 25,000 volunteers and 13,500 employees. Volunteers will be working closely with the social workers and other local professionals on site to support the residents in their social life.
Type of Work: Volunteers will help the local permanent staff in planning activities for the residents. Any artistic likes and abilities are highly encouraged and can be used in creating different activities relating to music, film, theatre etc. Volunteers will be expected to organize activities during the days such as games, outdoor excursions, sightseeing, field trips. The list of possible activities is limitless and each volunteer can bring their own ideas and creativity to the table, however, no task of nursing or medical responsibilities will be given to the volunteers. Interpersonal skills and motivation will help volunteers to develop and accomplish the required tasks easily and naturally. Please be aware that volunteers might be left alone and have to be autonomous and take initiative.
Study Theme: The camp places a strong emphasis on the importance of international solidarity, thus each volunteer will have the opportunity to make a presentation of some form like a recipe, a local dance, music, or a simple presentation to show the personal artefacts of their nationality!
Accommodation: Volunteers will be housed on site in shared studios adjoining the foyer of the building. All bedding is provided thus there is no need to bring a sleeping bag or mattress! All food is provided for; however, volunteers are strongly encouraged to help and make something from their own country!
Language: Good level in French is required in order to be able to communicate with the residents. This is important, please take it into consideration.
Requirements: Volunteers must be at least 20 years of age, and must submit an additional motivation letter written in French. Having a driver's licence is preferable but not required!
Approximate Location: The workcamp will take place in Noeux-les-Mines in northern France. Noeux-les-Mines is accessible by train and the nearest largest railway station is Noeux.
Organization Description: La branche française du mouvement, créée en 1936 et actuellement à Lille.