Topic:
10: Environment protection
Work Types:
Construction / Environment / Manual
Free places for Females:
0
Free places last update:
21 Jun 2019
International age:
18 - 30
Extra fee to be paid in the hosting country:
0.00 Euro
Required Language:
English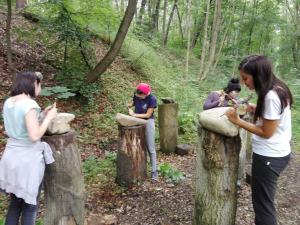 Description: The camp will take place in the village of Teixeira/Atenor which lies in adjoining area the International Douro Natural Park (IDNP), about 5 Km from Sendim village (Miranda do Douro). Summer is often dry and characterised by notorious temperature swings – very high during the day (35ºC) and relatively low in the evening (10º-15ºC).
The main goals of this workcamp are enhance the biodiversity of our Center, and improve the landscape for generations of donkeys and visitors to come; to enable the discovery of the Miranda Plateau, a unique rural region, rich in natural beauty, biodiversity, culture and traditions; and bringing together the young participants and the local community, therefore promoting intercultural (urban/rural, international/national) and intergenerational meetings.
Type of Work: The tasks planned for the enhance the biodiversity of our Center will be attract birds - for birds to visit or live in our Center they need food and shelter, so we will preserve trees and plant shrubs that provide these, add a butterfly and a pollinator garden – we will increase the plants that attract and support them, add water to our Center – such a birdbath or a pond or stream makes it very attractive to birds and other wildlife, add a log, build a rock pile or preserve a snag - a pile of logs or rocks can provide a home for wildlife, add birdhouses, bat houses or native pollinator houses – providing them good homes - welcoming to beneficial birds and insects that keep pest insects under control and so we reduced the use of pesticides, becoming organic farmers
Accommodation: Basic housing with electricity, hot water, shower, WC, kitchen, dining room, bedroom (equipped with bunk beds) and barbecue area. Meals will be prepared by all the volunteers, taking turns, yet always accompanied by a cook. Breakfast, lunch, afternoon snacks, dinner, and night snacks will be provided
Requirements: No specific rules of participation will be applicable
Approximate Location: Largo da Igreja n.º 48, 5225-011 Atenor, in the municipality of Miranda do Douro