Stage on the street: all included!
Topic:
9: People with disabilities
Work Types:
Art / Work with people with disabilities / Manual
Free places for Females:
0
Free places last update:
21 Jun 2019
International age:
18 - 30
Required Language:
English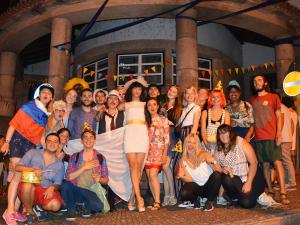 Description: to raise awareness among the participants and the population on social inclusion, mainly concerning handicapped young people; to raise awareness also about fair trade, organic farms and environment preservation.
Type of Work: group dynamics; presentation to the city and region; discussion on the workcamp theme (objectives, tasks division); visit to the most important places of the city; training on theatre performance and workshop on how to deal with the difference; direct contact and work with local NGO (Cercimarante) responsible for activities with local handicapped young people; organize an event (theatre performance) involving both groups (workcamp participants and local handicapped young people) to be presented to the local community (street performance – expected more than 500 persons to attend); visits to some of the main cities and spots in the North of Portugal (Guimarães, Porto, Alto Douro Vinhateiro e Parque Natural do Alvão).
Accommodation: Shared rooms (4 participants each) of Casa da Juventude de Amarante (even so participants should all bring sleeping bag). Casa da Juventude de Amarante has its own kitchen, wc and showers. In terms of food, our youth centre has a bar\restaurant proposal for the volunteers (breakfast, lunch and dinner)
Requirements: Inside the building of Casa da Juventude de Amarante is not allowed to smoke or drink alcohol (except in the bar or terrace); Garbage should be separated: glass, plastic, paper, organic; We all have different time perceptions and so we should respect others and prepare in time our participation in daily activities; Every day we meet at 21h00 in a circle to evaluate our day
Approximate Location: Amarante