Topic:
4: Peace and disarmament
Number of places still available:
0
Free places last update:
22 Aug 2019
International age:
18 - 99
Required Language:
English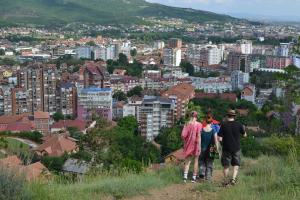 Description: GAIA has been working with many communities throughout Kosovo, promoting peace and social justice with a special emphasis on environmental protection. In the time of Yugoslavia, the city of Mitrovica was known as a melting pot of different cultural influences and it brought together artists and creative individuals of diverse backgrounds. Nowadays the only thing left from that period is a feeling of nostalgia, as the political turbulences of the past 3 decades have turned it into the poorest city with the least opportunities for its citizens. The goal will be creating a safe space for communication and exchange between diverse communities through artistic expression and dialogue. The focus will be put on using visual arts to promote peace and coexistence in public space.
Type of Work: Volunteers will be involved in activities such as mural painting, clean-up actions, gardening, performance, creative workshops. The work will not be very physically demanding but active participation and willingness to learn is expected. Participants will also have the opportunity to get to know members of Down Syndrome Kosovo (DSK), since we will be sharing their facilities, and take part in and create activities together.
Study Theme: The main aim is to explore how visual arts can be involved in promoting positive stories and engaging in dialogue in a mindful manner. The volunteers will be invited to consider how the urban environment relates to our sense of identity, as well as reflect on questions of nationality, history and culture. The division in the city is not only a consequence of conflict but also one of language, so visual arts in this context come as a form of mediation between the divided communities. There will be opportunities to work alongside of local artists and activists, as well as the City Museum.
Accommodation: Volunteers will be sleeping in tents (2-4 people sharing a tent) in the backyard of the Down Syndrome Center in the city (South) which is also one of our local partners and where GAIA has a working space. There is one shower in the facilities and two toilets. The kitchen of the center will be used for cooking and we will be having meals outside. Please be aware that these facilities will be shared with staff and members of the center. Food will be local and vegetarian, and prepared by camp coordinators and volunteers in shifts. Volunteers need to bring their sleeping bag and mat.
Requirements: Volunteers should be open-minded and respectful towards the political and cultural context of the communities with whom they will be interacting. People from an art and/or humanities background are encouraged to join, however it is not mandatory.
Approximate Location: The workcamp will be taking place in the city of Mitrovica, Kosovo. Kosovo is a country with multiethnic and multicultural backgrounds. The city of Mitrovica is a specific case itself. It used to be known for its mining industry and rich cultural life. After the war in the 90s the city has never been the same again and is suffering a social division of Albanians living in the South of the river Ibar and Serbs living in the North of it. During the workcamp volunteers will be going to both sides for work, visits and leisure.
Organization Description: GAIA, branch of SCI in Kosovo, is a peace organization working in a field of peace, understanding and solidarity between people, social justice and respect of environment. GAIA is also promoting cultural diversity and works on education and integration of marginalized and minority group in society. The main activities of GAIA are workcamps, youth exchanges, non-formal educational programs (trainings, workshops, seminars), organization of festivals, promotion of volunteering and solidarity in region of Balkans. http://gaiakosovo.org/