Intercultural Summer (Delitzsch in Sachsen)
Topic:
1: Antiracism, antifascism, remembrance
Work Types:
Restoration, renovation / Study, discussion, research
Number of places still available:
0
Free places last update:
13 Aug 2019
International age:
18 - 99
Extra fee to be paid in the hosting country:
0.00
Required Language:
English
Spoken Language:
English, German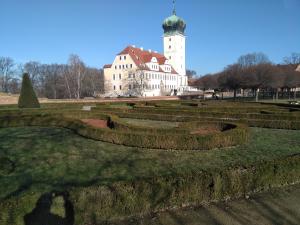 Description: This project will be carried out by a team of German and US co-workers. This cooperation has already been developing for over three years, as part of the ongoing collaboration among local residents that led to the formal establishment of InterKULTUR Delitzsch. During the Summer of Migration in 2015, people in Delitzsch came together to help the new arrivals, to stand by them and help out as forged new paths for themselves through a number of activities.The addition of an International WC to this summer program is the culmination of close to four years of preparation to take intercultural coop. in this small town environment to the next level, in which all participants will have a culturally rich environment to share experiences and develop new ideas.
Type of Work: Renovation of the interior of the buildung of the BAFF-Theaters Delitzsch e.V. (Theater-Akademie-Sachsen) under the supervision of specialized professionals, work in the garden, as well as helping in the kitchen with the preparation of daily meals from different culinary traditions for all volunteers.
Study Theme: Under the leadership of Prof. Larkosh, various activities will be planned around the topic of Migration, Civic Engagement and Welcoming Cultures in Smaller Cities. Visits to museums and other cultural destinations on daytrips to Leipzig und Halle will complement activities, as well as cooking and sharing meals from different cultural traditions; discussions of current events and political issues; and acknowledging and remembering the events that marked the history of Germany and Europe over the course of the 20th and early 21st centuries.
Accommodation: The BAFF-Theater Delitzsch e.V. will be available to offer accommodation to all participants over the course of the 14-day program. While there are numerous large rooms to choose from, participants are asked to bring their own bedding, such as sheets, blankets and pillows, or a sleeping bag with a padded mat or air mattress. Bath and shower facilities are sufficient for the entire group. Three daily meals will be prepared by members of the group in rotation as part of the daily tasks.
Requirements: Sufficient basic skills in English and/or German to facilitate everyday communication. Skills in other useful languages, willingness to do physical work as part of a diverse international team, as well as a commitment to intercultural and intergenerational communication, both sharing one's own culture and learning from those of others, through an intensive program of cultural activities.
Approximate Location: Delitzsch is well situated for participants on a first visit to Germany, located in northern Saxony not far from the border with Saxony-Anhalt. It is around 25 km north of the city of Leipzig, and only about 135 km south of the German capital Berlin. Other cities of cultural significance in the surrounding area (Halle, Dessau, Wittenberg, Dresden, Weimar, Erfurt) are also only a short train ride away.
Notes: Participants are responsible for bringing or acquiring their own bedding. Delitzsch has a beautiful historic town center, with a variety of shops, a marketplace, a bookstore, public parks, cafés and restaurants, all of which will hopefully contribute to ensuring an enjoyable stay for participants after work is done for the day. There is a public swimming pool near where participants will be staying. An English-speaking registered nurse from the US will also be part of the team to ensure access to first aid if needed.
This project was made possible with financial support from the Rosa Luxemburg Foundation of Saxony (RLS).
Organization Description: This workcamp is organized by the German branch of Service Civil International (SCI). SCI Germany was founded in 1946 and is approved as a non-profit organisation. We are one of the oldest peace and volunteer organisations. SCI Germany aims to promote peace, non-violence, international solidarity, social justice, sustainable development and cross-cultural exchange through international voluntary work. We cooperate with a network of branches and partners in more than 90 countries. Every year, SCI Germany organizes about 50 international workcamps in Germany.