Topic:
5: Poverty and social injustice
Work Types:
Work with children / Social
Free places for Females:
0
Free places last update:
23 Apr 2019
International age:
20 - 99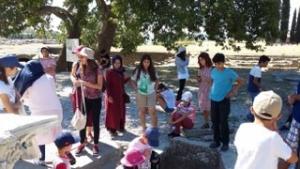 Description: Childhood Dreams is a special project of GENCTUR, designed for disadvantaged children groups aged 10-14. This camp is sponsored by external funds as well as the funds raised by GHD. All accommodation and food expenses of the disadvantaged children are covered by funds. The project is realized in Afacan Youth House ( www.afacan.de ). We are looking for communicative, talkative, active, children friendly volunteers who are at least 20 years old with some abilities on teaching basic English, any sports like basketball, volleyball, swimming, football, table tennis, etc., chess, arts and crafts, music, dance, drama, in and outdoor group games. Applicants will be interviewed by the camp managers via Skype. Thus, a motivation letter including the Skype ID should be send along with the application form.You will share the responsibilities of the leading team to take care a group of kids from the beginning till the end of the camp; including the trips outside of the camp as well as all kind of activities during the camp. Please note that you will be dealing with the kids through the given and intensive program all day long. You will spend most of your time with the kids in the camp area with a limited private life. Thus contact with the locals is very limited; however, you will have contact with the working people in the campsite. Volunteers may have fun together only after the kids go to the bed and the team cover the late, daily staff meeting in the camp. Leaving the camp are
Type of Work: Counselling a group of children aged between 10-14 years old, leading several activities for them.
Accommodation: A: In Afacan Youth House, in 2-3 bedded rooms with toilet and shower. Sleeping bag and mat are not necessary. F: Will be supplied at the campsite. The counsellors will eat together with the group of children whom they are responsible for.
Language: eng,tur
Requirements: Volunteers must be at least 20 years old. A motivation letter with a pass size photo should complete your application form. Applicants will be interviewed by the camp manager via Skype for selection. Please add your Skype address on your motivation letter.
Approximate Location: The venue is by the Aegean Sea, in west of Turkey. Work camp site is safe and secure.