Topic:
10: Environment protection
Work Types:
Art / Environment / Work with animals
Number of places still available:
1
Free places last update:
05 Aug 2019
International age:
18 - 99
Extra fee to be paid in the hosting country:
0.00
Required Language:
English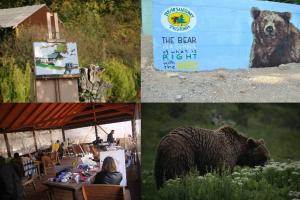 Description: BEAR SANCTUARY Prishtina was founded in 2013 by FOUR PAWS International to rescue brown bears which for many years were kept in captivity near restaurants. At our sanctuary 19 bears rescued from captivity are provided with a proper care which consists of an adequate diet, veterinary treatment, enrichment and plenty of space where they can roam, swim, dig, look for food and pursue their instincts. The sanctuary is open for visitors from the months of February until December. It is also helping to raise awareness about the need to preserve wild animal species in Kosovo. Visitors can take walks through the sanctuary, see bears in their natural environment, and learn more about the species and other animal welfare/nature protection topics.
Type of Work: We will work together in creating some art works (murals, paintings, simple sculptures, handcrafts etc.) on themes such as animal welfare, nature protection and biodiversity conservation and most of these works will be distributed along the visitors' path in our sanctuary. Through these art works the intention is to convey to our visitors the message that helps in developing a wider understanding of biological and landscape diversity and encourages individuals to become involved in environmental protection. We will also work in helping the keepers with their daily tasks (cleaning, preparing the food for bears etc.), monitoring bears at the sanctuary that includes observation and writing notes about bears' behaviors, participating in workshops and discussions about animal welfare etc.
Study Theme: Study part will be dedicated to bears, wildlife, environmental arts, animal welfare, nature conservation and cultural heritage. We will organize workshops, discussions, walks and hikes around the sanctuary, visits to cultural places etc.
Accommodation: Participants will stay in shared rooms in our education center in BEAR SANCTUARY Prishtina. We can also provide volunteers with sleeping bags and mattresses. Also, the food items and cooking facilities are provided while volunteers have to cook for themselves (vegetarian food). There are two toilets and two showers with hot water.
Requirements: The volunteers are expected to be able to do physical work, to learn new skills and to live in simple living conditions. We would be happy to have volunteers who are affiliated to this kind of art work, but we also encourage to apply even those who do not have any specific experience in this field. In this work camp will be space for everyone who has some creativity and desire to protect nature.
Approximate Location: The camp will take place at BEAR SANCTUARY Prishtina located 20 kilometres from Prishtina near the village Mramor. The Sanctuary is surrounded by the forest and meadows, where locals raise their cattle (cows, sheep, goats) and is far enough from traffic and other noises, thus represents a peaceful environment for residences of the Sanctuary.
Organization Description: GAIA, branch of SCI in Kosovo, is a peace organization working in a field of peace, understanding and solidarity between people, social justice and respect of environment. GAIA is also promoting cultural diversity and works on education and integration of marginalized and minority group in society. The main activities of GAIA are workcamps, youth exchanges, non-formal educational programs (trainings, workshops, seminars), organization of festivals, promotion of volunteering and solidarity in region of Balkans. www.gaiakosovo.wordpress.com