SAVE THE HISTORY! Tom Sawyer Fest: Saratov
Country:
Russian Federation
Topic:
12: Art, culture and local history
Work Types:
Cultural heritage / Restoration, renovation
Free places for Females:
0
Free places last update:
06 Jun 2019
International age:
18 - 99
Extra fee to be paid in the hosting country:
0.00
Required Language:
English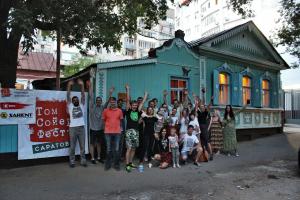 Description: Tom Sawyer Fest got its name from a hero of Mark Twain's most famous book. The boy painted a fence so inspiredly that everyone around begged him to let them paint it too. That's the main idea of the festival - to inspire good changes in the city. The festival began in 2015 in Samara, now it has 27 participating cities. It brings together enthusiastic people in an effort to restore wooden buildings that lacked cultural heritage object status. Volunteers carefully take away old paint, clean the wood, replace shabby decorations and in the end give the house a new colour. That helps to make local people believe that with their own hands they can make the city more beautiful and nice to live in. All restoration activities are made by volunteers only with help from sponsors and fundraising.
Type of Work: Help with restoration of wooden buildings of the XIX-early XX centuries – cleaning of facades, priming, painting. Various skills could be obtained depending on the area of working: cleaning wood from the old paint, priming, painting, plastering, working with hand and power tools (grinder, angle grinders), painting. All works will be supervised by specialists. Working hours are in the evening, approximately from 4 to 9 p.m.
Study Theme: Working hand in hand with Russian volunteers is a great chance to get to know traditions, culture and learn a bit of Russian language (or improve your level!). Saratov is famous for its museums and parks, beaches on the bank of Volga and beautiful nature around: you will go hiking, visit the true Russian village and see amazingly beautiful rock of Stepan Razin.
Accommodation: The group will be accommodated in a rented apartment or hostel. Cooking in teams, the budget for products is allocated.
Requirements: Volunteers should be ready to work with different tasks and don't mind manual labour.
Approximate Location: Saratov is large city on the South East of Russia, a major port on the Volga River. You can make a train journey from Moscow or take a flight.
Notes: Tom Sawyer Fest workcamp 2018: https://www.youtube.com/watch?v=jrI9MrL2Bb8&t=3s
Organization Description: Non-governmental and non-profit making organisation "Passage-Zebra" is active in Russia since 1998. Main fields of activities: international workcamps (in Russia), long-term volunteering in natural preserves and parks, study projects with language learning and teaching (including Russian language), building cultural bridges.