Topic:
12: Art, culture and local history
Work Types:
Environment / Restoration, renovation
Free places for Females:
0
Free places last update:
16 Aug 2019
International age:
18 - 99
Extra fee to be paid in the hosting country:
0.00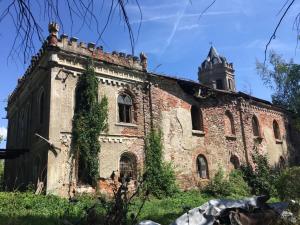 Description: The workcamp takes place in the village of Veseli nad Uhlavou in Western Bohemia in cooperation with the local association Tvrz Veseli. This association was founded with the aim of restoring the ruin of a castle in Veseli nad Uhlavou, to make it open for the public and for cultural and educational purposes. Its activities involve maintenance and fundraising to renovate the castle. The castle has a disturbed past and is now in a very bad state. Past three workcamps helped to clean an overgrown castle park and supported the renovation activities. This year, the workcamp will focus on removing rubble from the part of the castle which is being renovated and on maintenance of the park.
Type of Work: The work will be manual and it will be done at the castle and in the castle park. The tasks in the castle will include: separating construction material from the ruins (tiles, beams, boards etc.) which can be reused and removing rubble. The work can be physically demanding, but everyone will contribute as much as they can. In the park, you will rake and collect grass, remove invasive plants and bushes. You will get protective gloves and appropriate tools from the local host. Bring working clothes which can get dirty, solid shs and waterproof jacket or raincoat (in case of bad weather). Be prepared for all kinds of weather. Study part: Presentation of the castle and its troubled history, excursion to Klatovy underground, getting to know history of the region, meeting locals during a music evening at the castle etc.
Study Theme: Presentation of the castle and its troubled history, excursion to Klatovy underground, getting to know history of the region, meeting locals during a music evening at the castle etc.
Accommodation: You will be hosted in the house of the local association s member in the village of Pocinovice (about 6 km from the workplace). Sleeping on mattresses in your own sleeping bags. There are two big rooms, WC, a bathroom and a kitchenette. If you need more privacy, you can sleep in a tent in the garden. Lunch will be provided at the workplace every day. You will prepare other meals on your own as a group. A washing machine is available.
Language: eng,
Requirements: Workcamp is suitable for history lovers and people interested in living in the countryside. Due to living in a house with a host you will have a unique opportunity to experience local culture and customs, at the same time we ask you for respectful behavior.
Approximate Location: Veseli nad Uhlavou - a small village (about 58 inhabitants), a part of the Janovice nad Uhlavou municipality. The village of Pocinovice (around 548 inhabitants). Both are located at the foothills of Sumava National Park, close to Klatovy. From the place of accommodation (Pocinovice) to the workplace (Veseli) you will go every morning by train (20 min), related travel costs are covered. The train station is near the castle. In Pocinovice, there is a bakery, pub, library, some small shops and sports grounds.Leisure time: Trip to Chodsko region and participation in a local festival in Domazlice. Volleyball tournament with local players, trip to a pilgrimage place of Dobra Voda (5km by forest road), trip to Klenova Castle and Kanice, swimming, making a campfire with locals, excursion to the local brewery, organizing a fun afternoon for local children etc.
Notes: See photos from the previous workcamp: goo.gl/HMc3sr
Organization Description: INEX – Association for Voluntary Activities is a non-governmental not-for-profit organisation founded in 1991 to carry out and support international voluntary work and intercultural education. The mission of INEX-SDA is by organising international voluntary projects, educational programs and campaigns to: 1. assist the development of a tolerant and open society and 2. encourage an active and responsible approach to the world around us both locally and globally We create space in which especially (but not only) young people can gain new experience, expand their skills and and develop their own views of the complexity of the world around them.