Country:
Spain - Catalunya
Topic:
5: Poverty and social injustice
Work Types:
Festival / Manual / Social
Number of places still available:
0
Free places last update:
01 Jul 2019
International age:
16 - 99
Required Language:
English
Motivation letter:
This camp requires an additional motivation letter to explain in more detail why you would like to attend.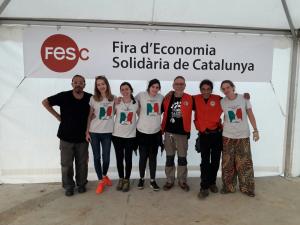 Description: Organized by XES (Catalonian Network of Solidarity Economy), the aim of this workcamp is to promote Solidarity Economy, an alternative, strongly cooperative, economy focused on people's needs.
Type of Work: Volunteers will help in tasks related to preparations and logistics ✓ Assembling and dismantling of stands and functional infrastructure. ✓ Preparation of materials. ✓ Distribution of promotional material during the FESC.
Study Theme: There will be several moments of learning in the field: ✓ Welcome: There will be a brief introduction to the solidarity economy. ✓ During the Fair there might be the possibility to share examples of solidarity economy projects from your countries ✓ Visit the emblematic projects of the Solidarity Economy in Barcelona.
Accommodation: Volunteers will sleep in SCI flat (Ca l' Elna). There is a dormitory with 12 beds, 1 bathroom and 2 showers. Also, rooms with 4 beds and with 2 beds with common bathroom/shower. The kitchen is common.
Approximate Location: Barcelona city center
Notes: Yes, it is in Barcelona, but please don't apply if it only makes you think about sangria and discoballs! Volunteering is a serious commitment and it needs to be taken as such.
Organization Description: SCI Catalunya is the Catalan branch of SCI, one of the 2 SCI branches in Spain. We are based in Barcelona and our working area covers the Catalan countries (including Catalonia, Valencia, the Balearic Islands and Andorra). The other provinces of Spain are covered by SCI Madrid. SCI was founded in 1982 and he organization works on both a global and local level. On the global level, we organize international workcamps in the above mentioned territory Long Term Voluntary Projects (including EVS), trainings and seminars. . On the local level, we work to promote peaceful social transformation of society in order to encourage sustainable human development and a culture of peace, through volunteer groups, involving our community and local networks.