Action for the nature and landscape conservation in the Garrotxa Natural Park and Bosc de Tosca
Country:
Spain - Catalunya
Topic:
10: Environment protection
Work Types:
Construction / Environment / Manual
Number of places still available:
0
Free places last update:
15 Jul 2019
International age:
18 - 99
Extra fee to be paid in the hosting country:
0.00
Required Language:
English
Child friendly camp
Yes (Minimum age: 0)
Motivation letter:
This camp requires an additional motivation letter to explain in more detail why you would like to attend.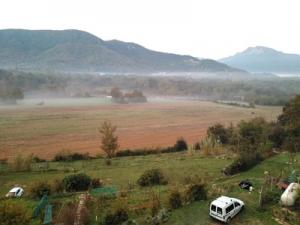 Description: ANEGx (Naturalism association La Garrotxa) has 3 main areas of work: naturalism, environmentalism and environmental education
Mas Pujou is an association dedicated to discovering the natural, cultural and social heritage of its surroundings. It is a farmhouse fully equipped to accommodate groups and individuals.
Type of Work: • Bioconstruction and work in the garden of Mas Pujou, applying measures to promote biodiversity in rural areas • Cleaning the paths and the river of the Natural Park in the Volcanic Zone
• Monitoring of fauna or flora
Study Theme: • Problematics of the introduction of exotic species for autochthonous fauna • Environmental education as a tool for social transformation • Sustainable mobility
Accommodation: Volunteers will be accommodated in Mas Pujou is a traditional country house, with many annexes, stable and corrals and a very large central house. You will sleep in a mixed room, in one of this annexes. The kitchen, dining room and toilets will be shared with other people, in the main house. Meals will be mainly vegetarian. Special requirements will be taken into account.
Requirements: We are looking for volunteers older than 30 years old
Approximate Location: Olot, Catalonia, Spain
Organization Description: SCI Catalunya is the Catalan branch of SCI, one of the 2 SCI branches in Spain. We are based in Barcelona and our working area covers the Catalan countries (including Catalonia, Valencia, the Balearic Islands and Andorra). The other provinces of Spain are covered by SCI Madrid. SCI was founded in 1982 and he organization works on both a global and local level. On the global level, we organize international workcamps in the above mentioned territory Long Term Voluntary Projects (including EVS), trainings and seminars. . On the local level, we work to promote peaceful social transformation of society in order to encourage sustainable human development and a culture of peace, through volunteer groups, involving our community and local networks.