Community garden & activities with asylum seekers in Luxembourg
Topic:
2: Refugees, immigrants and ethnic minorities
Work Types:
Teaching / Environment / Social
Free places for Females:
0
Free places last update:
08 May 2019
International age:
18 - 99
Required Language:
English
Spoken Language:
English, French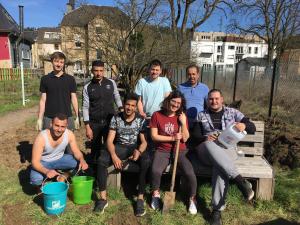 Description: Maison des Associations asbl and Amitié Portugal-Luxembourg asbl are two well established associations in Luxembourg working on similar projects of integration, social cohesion and they initiate the intercultural and intergenerational dialogue. Our project "Matenee Brécke bauen" is involved in integration of asylum seekers and refugees and aims to improve the integration and to promote better understanding between them and the population of Luxembourg.
Type of Work: The volunteers will be involved in two different projects - they will organize different activities for residents of the refugee camp (art, cooking, languages, visits, etc.) and they will work in our small community garden. We organize regular workshops, mostly focused on permaculture (sustainability, social design principles and urban gardening). We wish to create a peaceful gathering place for people from different backgrounds to meet up and exchange. But it's not only about the work of course! You will have an opportunity to visit the beautiful Luxembourg! The work can be quite physical and you must be motivated to work outdoors, regardless of the weather. It's necessary to respect the working hours in order not to delay the whole group.
Accommodation: Participants will stay together in the scout house in walking distance from the garden. There are separated female/male dorms, sanitary facilities, fully equipped kitchen for common cooking. Please, bring your own sleeping bag! If needed, we have some in the stock. Please let us know.
Volunteers will cook together in different groups. We will have an international dinner so please bring some traditional food and drinks.
Language: The language of the camp is English, basic French is welcomed.