Listen to the Echo of the Sea & Wind in Ding An Village
This project is part of the SCI North South Programmes. Volunteers should be 20 years old, have previous volunteering experience and take part in the Preparation Workshops organised by their sending branch. More details from your sending branch.

Camp code:
TW-VYA 10.1916
Country:
Taiwan, Republic of China
Topic:
10: Environment protection
Work Types:
Environment / Work with children / Study, discussion, research
Free places for Females:
1
Free places last update:
10 Jul 2019
International age:
18 - 99
Extra fee to be paid in the hosting country:
0.00 New Taiwan Dollar
Required Language:
English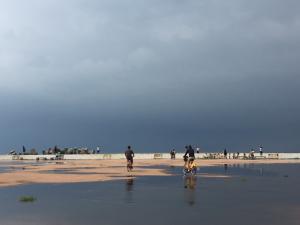 Description: The Ding'an Community of Da'an District, Taichung City is located in the northwest corner of Taichung City, on the south bank of Da'an River. It is close to the Taiwan Strait. The residents are mainly farming and animal husbandry, planting rice, steamed bread, raising livestock, ducks and other poultry, and the industrial and commercial development is insufficient. The outflow of young people is serious. The elderly and children in the community are mostly lacking in vitality and creativity. Due to the aging of the population, there is a lack of motivation for the community. Because of the geographical location, the educational resources of children and children are relatively insufficient.
Type of Work: 1.Accompanied the community children to understand the community's human history, the estuary 2.ecological landscape and make a survey record. 3.Volunteer and community children's can teach each other language. 4.Encourage the elderly to participate in community activities. The community handles elderly care centers and health promotion activities every Friday. The volunteers lead the elders to experience different cultures and stimulate curiosity and action.
Accommodation: The accommodation is located on the second floor of the Community Activity Center. The ground floor can accommodate up to 25 people. There is no need to bring your own sleeping bag. The first floor bathroom is fully equipped. There is a kitchen on the first floor.
Language: Chinese Mandarin
Requirements: 1. Volunteers who have patience and heat for children, teenagers, and the elderly.
Volunteers interested in human history and ecological landscape.
Carry 2-3 pieces of traditional toys in your country/downtown to let community residents understand the culture of each country.
Approximate Location: It is close to Dajia Town, Dian'an Palace, Tai'an District, Taichung City. It takes about 15 minutes by car. About one hour drive from Taichung City.
Google Map網址:439台中市大安區頂安里 https://www.google.com.tw/maps/place/439%E5%8F%B0%E4%B8%AD%E5%B8%82%E5%A4%A7%E5%AE%89%E5%8D%80%E9%A0%82%E5%AE%89%E9%87%8C/@24.3923026,120.6002631,14.25z/data=!4m2!3m1!1s0x34690c2c963ec4ef:0xfbbd93609dec232f?hl=zh-TW