Marianów calling (near Warsaw)
Topic:
7: Children and youth
Work Types:
Art / Teaching / Work with children
Free places for Females:
0
Free places last update:
03 Jun 2019
International age:
18 - 99
Extra fee to be paid in the hosting country:
0.00
Required Language:
English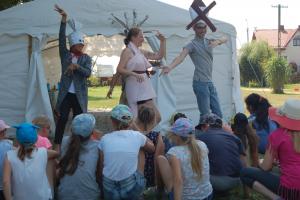 Description: Marianów together with AXA Association are inviting all brave and creative volunteers to join our camp! It is the 9th time the volunteers will visit our village. Local children are waiting impatiently for the guests as they expect great people and look forward to having unforgettable time with them. Marianów is a quiet and peaceful place with nearby forests and welcoming inhabitants. During two weeks of the workcamp we would like to organize daily workshops for a group of about 30 local children aged 6-14. Our neighborhood does not offer any attractions for children during summer time. As a result, the workcamp is usually the only chance for the kids to spend time in an interesting way far from computers.
Type of Work: Volunteers will be responsible for organizing games and workshops for the children (primarily related to the culture of their home country), taking care of them during the workcamp, and keeping order in the buildings and the area where the workshops take place. They may be also asked to help in the kitchen. They will work approximately 6 hours per day 5 days a week. the workshops will be divided into subjects categories such as: arts and crafts (led by local artists), sports and games and cultural diversity classes prepared and run by the volunteers, which are the most important and most attractive for the kids. Generally, the volunteers will be involved to some extent in every subject group either helping with organization of workshops, or running them themselves.
Accommodation: Guest house, shared rooms, showers and toilets available. Sleeping bags and towels are not necessary.
Language: English
Requirements: All volunteers are required to submit a background-check document proving no criminal record before arrival. Our ideal volunteer is highly motivated to work with children and can easily interact with the young ones. He/she is creative, full of ideas responsibility and reliability are his/her strengths. We prefer non-smokers.
Approximate Location: The workcamp will take place in agritourism farm in Marianów in Tłuszcz Municipality - a small village 50 km from Warsaw.
Notes: Our aim is to prepare activities that will bring joy to kids and will be informative at the same time. We would like to encourage them to speak English. Please note that although they learn English at school, most of them may be too shy to use it. For this reason, volunteers should be willing to communicate beyond language barriers, relying also on their creativity and non-verbal communication skills. Weekends are free for volunteers and can be dedicated to group socializing, trips and fun.