El Oso: among the steppe lagoons
Topic:
10: Environment protection
Work Types:
Environment / Restoration, renovation
Free places for Females:
-1
Free places last update:
14 May 2019
International age:
18 - 99
Required Language:
English
Spoken Language:
English, Spanish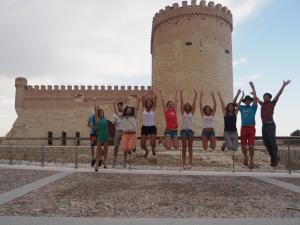 Description: This workcamp will take place in the West of Spain, in a small town called El Oso, surrounded by steppe and lagoons. This small village with 200 inhabitants is situated at 26km from Ávila and it is known from its birdlife, including some unique species that you can only find there. To improve the environmental protection of the area we are creating some infrastructures as a visitor's center, walkways to the ponds, etc.
Type of Work: Repair and manufacturing nest boxes for birds like: Owls, Kestrels, and raptors. Wildlife Inventory: Butterflies, dragonflies, insects, and plants. Painting and repairing the Visitor's Center Lagunas de la Morana. Clean wild vegetation from the surrounding of the lakes. Maintenance of gardens with native plants. Reparation of bird observatories and animal vision cameras.
Study Theme: Ornithology and study about fauna and flora in the area.
Accommodation: Accommodation in the Visitor's Center Lagunas de la Morana.
Language: A minimum level of Spanish is needed
Requirements: Motivation to work and to get involved in the local town life
Approximate Location: El Oso. Avila (Spain)
Notes: After being accepted and receiving the infosheet please inform in advance if you are vegetarian, vegan or you have any special diet.
In the spare times, there will be done some activities locally: traditional games, knowledge about town dishes and winery.