Dark Cellars - Bloomy Gardens (Neufra near Ulm)
Topic:
12: Art, culture and local history
Work Types:
Art / Manual / Restoration, renovation
Number of places still available:
0
Free places last update:
01 Aug 2019
International age:
18 - 99
Extra fee to be paid in the hosting country:
0.00
Required Language:
English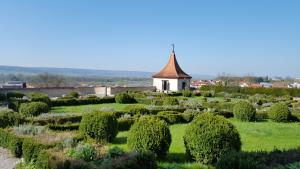 Description: Get strong muscles, do garden work and find your creative inner by rebuilding old objects! Come to Neufra!
The workcamp takes place in historical gardens and cellars. It`s a public garden and here events like guided tours, dance-nights, weddings and yoga workshops will take place. The historical hanging garden is laid out after an old Renaissance model and is waiting to be seen by you. Below the historic hanging garden is the vaulted cellar. It consists of 10 rooms and will be used for events such as theatre and concerts. But first, we have to work. In the vaulted cellar lie the treasures of several centuries. Antique tools, lanterns, and benches have to be moved outside and all the garbage has to be removed from the vaults.
Type of Work: Work in the vaulted cellar: to remove old garbage and objects, to sort and to process them. The wood will be cut and used for a campfire. The volunteers will collect the old items and examine whether it is suitable for the flea market or should be brought for recycling. They can also creatively redesign the recyclable objects (with an exhibition at the flea market.) You will organize the Flea market and the following cultural-evening. The volunteers will also work in the garden.
Study Theme: Learn more about the history of the Hanging Garden, the preservation of historical and architectural sights.
Accommodation: Inside a house on camp beds; toilet and shower are nearby. You will cook together with other volunteers in the outdoor kitchen. When the weather is good, you can eat together outside and enjoy the beautiful view. When the weather isn´t nice, you will have meals in the nice room of the old tower.
Requirements: Interest in physical and construction work, gardening, monument preservation, creativity. To clean the cellar, we need really strong people, but also those who are creative.
Approximate Location: Neufra (near Ulm)
Notes: The work takes place outside (garden) and inside (cellar vault). Outside it can be very warm (30 degrees), in the vaulted cellar it is always 9 degrees. So bring work clothes which is suitable for working in both, the garden and vaulted cellar, as well as working gloves with you. Weddings are celebrated in the garden. It would be nice if you would find out the wedding rituals in your country and share them among the other participants at our cultural evening. Bring your musical instruments for relaxing evenings. In your free time, you can make trips to Riedlingen, Ulm or to the nearby Bodensee. Bring swimwear with you.
Organization Description: This workcamp is organized by the German branch of Service Civil International (SCI). SCI Germany was founded in 1946 and is approved as a non-profit organisation. We are one of the oldest peace and volunteer organisations. SCI Germany aims to promote peace, non-violence, international solidarity, social justice, sustainable development and cross-cultural exchange through international voluntary work. We cooperate with a network of branches and partners in more than 90 countries. Every year, SCI Germany organizes about 50 international workcamps in Germany.