Kiez Frauensee: Renovate and Excavate the Kids and
Topic:
12: Art, culture and local history
Work Types:
Environment / Restoration, renovation
Free places for Females:
0
Free places last update:
11 Jul 2019
International age:
18 - 26
Extra fee to be paid in the hosting country:
0.00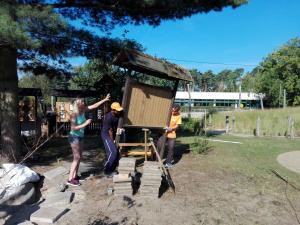 Description: The KiEZ Frauensee is situated not far from Berlin, in a fascinating landscape in the middle of forests, directly at the lake Frauensee. With its peaceful position and numerous hiking areas, it offers holiday guests the opportunity of an active getaway. The next big town is KEnigs Wusterhausen.Please be aware that the last bus from KEnigs Wusterhausen leaves at 7.20 p.m. on working days and at 7:25 p.m. during the weekend. There will be no possibility to go to the workcamp afterwards. Even though Berlin is close, be prepared to spend your evenings in a quiet area without cinema or pubs The centre is situated in the wood, 10 km from the next S-Bahn station. Of course you will have the chance to visit Berlin during your stay.More Information: www.frauensee.de
Type of Work: International volunteers are invited to help and improve the grounds of the centre. Tasks are likely to include painting, gardening, general maintenance and cleaning. There may also be the opportunity of different creative tasks. Volunteers should be prepared to be flexible and take part in any environmental and renovation work that will support the KiEZ Frauensee. Please be aware that you will not work with children
Accommodation: Volunteers will sleep in dormitory accommodation in separate male/female rooms with bunk-beds. All that you will need is there: showers, bed linen, etc. A washing machine and internet access will be available only during the office hours of the reception.
Language: eng,
Requirements: -
Approximate Location: You will have your meal in the centre. The catering is organised strictly, because there are different groups of children accommodated at the same time. Be aware that the food offered is designed with children in mind.