Topic:
9: People with disabilities
Work Types:
Work with people with disabilities
Free places for Females:
0
Free places last update:
23 Aug 2019
International age:
18 - 99
Extra fee to be paid in the hosting country:
0.00
Motivation letter:
This camp requires an additional motivation letter to explain in more detail why you would like to attend.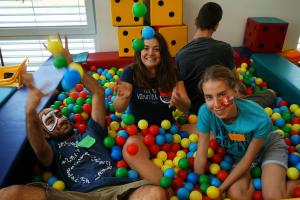 Description: Association Barlicka (Little crutch) has been working with young people with physical disabilities since 1999 by establishing a centre to help them live independently. The association has been offering: activities in a social centre on a daily basis; practical school; courses (theatre, dance, music, PC, etc.). Later they also built a centre for mothers and services for elderly people. The workcamps have been organized in Barlicka centre since 2013.
Type of Work: The volunteers will organize free time activities for young people with disabilities from the NGO Barlicka. The centre has been working with people with disabilities for 16 years, trying to help them to live independently. The activities for young people with physical disabilities will be organized during the daily summer camp ( summer activities, trips, competitions, and games. The volunteers will use non-formal education activities to encourage recycling and energy saving.
Study Theme: The workcamp will be visited by INEX Messenger who will organize a workshop focused on current events in Europe. The volunteers will prepare the "Feast of cultures" - an international food festival for the local community, and will join the "volunteering footprint" workshop. Our camps will follow the rules of the Sustainability campaign.
Accommodation: Lodging will be provided in the centre of the NGO Barlicka, on beds. A sleeping bag is needed. Volunteers will be in charge of preparing the food ( breakfast, dinner. Lunch will be provided. On demand, vegetarian meals can be provided.
Language: eng,
Requirements: MOTIVATION LETTER IS NEEDED. Bring a sleeping bag, a swimming suit, some info materials and pictures of your country, materials which could be used in your workshop with people from Barlicka, a musical instrument to play nice music, some ideas for games with the children, your enthusiasm and a smile on your lips :).
Approximate Location: The camp will be organized in the city of Presov ( the 3rd biggest city in Slovakia located in the eastern part of the country. The volunteers can enjoy the old historical centre, the castles around Presov and the cultural life in the city.