Coping with the Past (Berlin)
Topic:
1: Antiracism, antifascism, remembrance
Work Types:
Study, discussion, research
Number of places still available:
1
Free places last update:
01 Jul 2019
International age:
18 - 26
Required Language:
English
Spoken Language:
English, German, Russian
Motivation letter:
This camp requires an additional motivation letter to explain in more detail why you would like to attend.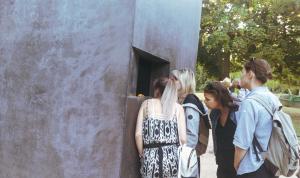 Description: The main aim of the project is to study the difference in the way Germany and post-Soviet countries deal with collective memory of WWII. The study camp focuses on remembrance culture and what are its main features, as well as different approaches to speak about the WWII in Germany, Russia and Ukraine. It is crucial to analyze how differently contemporary societies in Germany, Russia and Ukraine speak about the trauma on the example of WWII and which tools they use to regulate common memory. How cultural surroundings, aesthetics of the monuments influence our personal stories. To do so we would like to use the method of digital storytelling and mind maps, and invite participants to explore the topic from their home topography and stories of their families before, during and after the WWII.
Type of Work: It is expected that with the help of a storytelling method and mindmapping participants will learn more about commemoration and the influence of social memory on their personal worldview. We would like to raise their awareness about how common memory is regulated and how to look beyond the narratives of the government or mass media. We believe that it will foster understanding between these three countries, stimulate the dialogue and lead to popularisation of the ideas of peace and empathy. It is expected that the participants will contribute to the development of the website. First of all, we would like to edit the existing content and update the statistics/articles with the new discovered facts. The second step is to analyze commemorative approaches in Germany, Russia and Ukraine.
Study Theme: The main objectives are to:
Raise awareness about collective memory and WWII trauma;
Develop analytical and critical thinking skills;
Speak about remembrance culture in Germany and post-Soviet countries;
Explore the memorials and commemorative places in Germany, Russia and Ukraine;
Explore storytelling method as a tool for social transformation from personal experience to the common experience;
Learn the method of mind-mapping as a tool of research;
Develop the content for the project's website connected with the remembrance culture https://sciworkcamp.wordpress.com
Accommodation: Participants will be accomodated in the Regenbogenfabrik hostel. They will share 6- or 8-beds rooms. There will be showers, a kitchen, a dining-room and a room for the workshops at the participants' disposal. The study camp will be based on self-organisation approach. Every day there will be different people in charge of cooking for the whole group, as well as a cleaning team. There is WiFi access in the hostel.
Language: Participants should have at least intermediate level of English as it is the main language of communication during the project.
Requirements: We highly welcome participants who have a great interest in the main topic of the study camp, who study history at the university or who are working in the museums/organisations/institutions dealing with culture of remembrance. As the project requires the development of the project's website and writing some articles for it, we would like to gather youngsters who are ready to contribute.
Approximate Location: Regenbogenfabrik hostel, Berlin (Kreuzberg district).
Notes: A motivation letter is required.
Organization Description: This workcamp is organized by the German branch of Service Civil International (SCI). SCI Germany was founded in 1946 and is approved as a non-profit organisation. We are one of the oldest peace and volunteer organisations. SCI Germany aims to promote peace, non-violence, international solidarity, social justice, sustainable development and cross-cultural exchange through international voluntary work. We cooperate with a network of branches and partners in more than 90 countries. Every year, SCI Germany organizes about 50 international workcamps in Germany.