Topic:
11: Climate and sustainable lifestyle
Work Types:
Study, discussion, research
Number of places still available:
1
Free places last update:
15 Aug 2019
International age:
18 - 99
Extra fee to be paid in the hosting country:
0.00
Required Language:
English
Spoken Language:
German, Russian
Motivation letter:
This camp requires an additional motivation letter to explain in more detail why you would like to attend.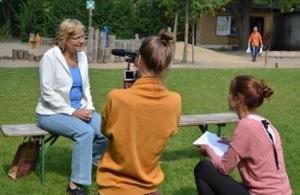 Description: The aim of this training is to innovatively encourage the participants to take a different view of cities that are more creative, sustainable, inclusive and accessible to young people from all walks of life. In doing so, they will be equipped with more knowledge, know-how, methods, and competencies through thematic workshops, specialist lectures, field observation, project visits, development and management of workshops in youth institutions. This should enable them to initiate new, innovative volunteer projects, international youth encounters and educational measures on these topics, to shape and implement them in terms of content and methodology. In addition, the exchange of ideas and experience should be promoted.
Type of Work: No physical work; the participants will visit exemplary initiatives in small groups, film and conduct interviews there; document them in order to gather as much information as possible for the online city maps; in addition: design, media documentation, mapping and modeling of interactive maps, which will be uploaded on the Website .
Study Theme: Environmental sustainability, social inclusion, urban development and intervention, public/private space and project management. Training in dealing with new media:
Addressing contemporary urban processes and sustainable urban development, identifying opportunities for involvement in child and youth work in this field.
Project development in youth work/implementation (visit of exemplary projects in Berlin + own development of ideas on this).
Design of the website for youth welfare workers and youth workers.
Accommodation: Accommodation will be in a hostel in Kreuzberg district. The group will be self-catering.
Requirements: Interest in the main topics, motivation letter is required.
Approximate Location: Berlin
Notes: Part of the program is also to strengthen the network between participants from Germany, Ukraine and Russia as well as develop actionable proposals and tangible projects on how voluntary organizations can further promote environmental action among young people.
Organization Description: This workcamp is organized by the German branch of Service Civil International (SCI). SCI Germany was founded in 1946 and is approved as a non-profit organisation. We are one of the oldest peace and volunteer organisations. SCI Germany aims to promote peace, non-violence, international solidarity, social justice, sustainable development and cross-cultural exchange through international voluntary work. We cooperate with a network of branches and partners in more than 90 countries. Every year, SCI Germany organizes about 50 international workcamps in Germany.