State Forestry Noard-Fryslen Twijzel
Topic:
7: Children and youth
Work Types:
Work with children
Free places for Females:
0
Free places last update:
06 Sep 2019
International age:
18 - 99
Extra fee to be paid in the hosting country:
25.00 Euro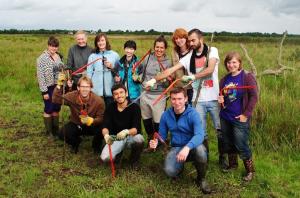 Description: The working area of State Forestry Noard-FryslEn offers a various landscape with a rough swamp nature. It is a perfect area to walk around so you can see the various landscapes. There are a lot of little lakes here in the north of FryslEn. The partner is the Dutch State Forestry, commissioned by the Dutch government to manage a large part of the nature reserves in the Netherlands. Working towards a sustainable living environment for man, plant and animal is central to their mission. It is a social organization, working for and on behalf of society, cooperating actively with Dutch citizens and the organisations and institutions that represent them.
Type of Work: The volunteers will work in the area surrounding Twijzel, a small village in FryslEn, known for its cultural-historic and blooming blue-grass landscapes and swamp forests. The participants will play an important role in the preservation of the flora and fauna of the area. Together with the state forest rangers the volunteers will do different activities such as cutting, dredging and maintaining the paths. Because of the unique status of the area this is work that cannot be carried out by machines. So the volunteers will play a vital role in the nature preservation. The rangers are very enthusiastic and will tell you all about the special species that live in this area. During the week they will organise excursions and volunteers will work together with local volunteers.
Accommodation: Volunteers will stay in small bungalows with 6 beds per bungalow. Each bungalow has its own bathroom, toilet and kitchen with equipment. The group will do groceries and cook together for themselves. The State Forestry provides bikes for every volunteer to go back and forth from the accommodation to the worksite. Volunteers will bring a packed lunch to work and eat on the site, either outside or inside a work trailer depending on the weather.
Language: eng,
Requirements: Old/working clothes Rubber boots (working fields can be very muddy)High top sneakersRain is spread out over the year, so bring warm clothes, a raincoat and a swimming suit
Approximate Location: Together with the camp leaders the volunteers will discuss the recreational program. For example they can explore the area by bike, go swimming, visit a museum or other places in the Netherlands, such as Leeuwarden, a city nearby. The camp leaders will have some ideas, but of course it is possible for the volunteers to put forward their own ideas for this program Leisure time will also be spent on the general theme Connecting with the local community.