Camp code:
JP-NIC 10.190621
Topic:
10: Environment protection
Free places for Females:
0
Free places last update:
30 Jun 2019
International age:
18 - 99
Extra fee to be paid in the hosting country: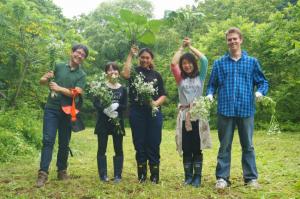 Description: This project has been organized together with Shirakami Mountains Preservation Society (SMPS) since 2006. The Shirakami Mountains is one of Japanese valuable preserved natural forests consisting primarily of beech trees, registered as a World Natural Heritage in 1993. SMPS aims to preserve the natural beauty of the Shirakami Mountains by nurturing seedlings of beech trees, planting them, training mountain guide, etc. SMPS hosts tree-planting ceremony every June for preserving and promoting the value of it. They also preserve the forests near the Mutsu-bay, famous as production of scallops. Due to climate change, the sea water temperature increased abnormally and the most of scallops were dead. So SMPS started to preserve the forest there to let nutrient water flow to the ocean.
Type of Work: Volunteers will do various types of nature conservation works such as 1) cutting glasses to improve ecological richness of the forest and 2) helping the tree planting ceremonies including preparation such as carrying the plants and tools, and cleanup after the event. We will also help local farmers. The contents of work might be changed due to weather condition, so volunteers need to be flexible
Accommodation: Volunteers will stay in shared room of old elementary school. Meals will be cooked by volunteers by turns. Please bring a sleeping bag.
Language: eng,
Requirements: Volunteers should prepare to work hard outside in good and bad weather and have high motivation for work in the forests actively with local people.
Approximate Location: Volunteers will work in Ajigasawa town and Hiranai town in Aomori prefecture. Aomori is located on the northernmost tip of Honshu Island. Shirakami Mountains located in southwest and the Mutsu-bay nestles between the eastern Shimokita and western Tsugaru Peninsulas.