Camp code:
JP-NIC 7.190730
Topic:
7: Children and youth
Work Types:
Work with children
Free places for Females:
0
Free places last update:
10 Aug 2019
International age:
18 - 99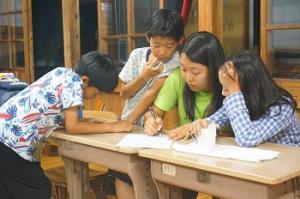 Description: This project has been organized together with Shirakami Nature School (SNS) since 2006. Shirakami Mountains is one of Japanese valuable preserved natural forests consisting primarily of beech trees, registered as a World Natural Heritage in 1993. SNS has a summer vacation program for children aged 7-12. Children will play and live in the nature to grow their independence, cultivate sensitivity, and learn group cooperation. This is also good opportunity for children to learn about international culture through communication with international volunteers.Volunteers need to be ready to spend 24 hours with children during kids camp except some free times.
Type of Work: Volunteers will help out and live together with children all the time in the summer program, such as supporting some activities in nature, and showing your culture, performance. Volunteers also help some other needed works such as forest maintenance and cleaning. The contents of work will be changed due to weather, so please be flexible
Accommodation: Volunteers will stay in shared room of old elementary school. Meals will be cooked by volunteers by turns. Please bring a sleeping bag.
Language: eng,jap
Requirements: Volunteers should love kids and speak/understand some Japanese language. Responsibilities, group cooperativeness and high motivation are necessary Volunteers have experienced the activity with kids are welcome Motivation letter is required.
Approximate Location: The Shirakami Mountains, located in the northern part of Honshu Island, is a huge mountainous area (130,000 hectares on the border between Aomori and Akita Prefectures).