Camp code:
JP-NIC 7.190803
Topic:
7: Children and youth
Work Types:
Agriculture / Cultural heritage / Work with children
Free places for Females:
0
Free places last update:
15 Aug 2019
International age:
18 - 99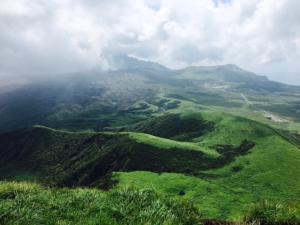 Description: This project has been organized together with a local group formed for this project since 1999. Aso city is located in the center of Kyushu, famous for Mt. Aso, is a large active volcano in Japan. The mountain s caldera, created by multiple gigantic eruption in the distant past, is with a circumference of over 100 kilometers one of the largest in the world. In spite of the wonderful landscape, depopulation is a serious problems here similarly with many other parts of the country side in Japan. This project aims to activate the area by helping some local activities and make opportunities of intercultural exchange between locals and international volunteers.
Type of Work: Volunteers will help some local activities as the below. 1) Kids camp: Volunteers will support 2 days Kids camp, by playing with them and showing your culture. 2) Summer festival: Volunteers will join traditional summer festival, setting and cleaning up the venue. 3) Agriculture: Volunteers will work in farm for helping local elder farmers. Volunteers will do some other works needed in the community.
Accommodation: Volunteers will stay in a shared room of community center, very simple facility. Please bring your sleeping bag. Meals will be cooked by volunteers by turns.
Language: eng,
Requirements: Interest in revitalization the community, and activities with children.
Approximate Location: Aso in Kumamoto pref. is a city with rich nature. Aso-Kuju National Park is one of Japan s oldest national park. Volunteers can enjoy splendid view of Mt. Aso and natural hot spring