Camp code:
JP-NIC 10.190902
Topic:
10: Environment protection
Free places for Females:
0
Free places last update:
14 Sep 2019
International age:
18 - 99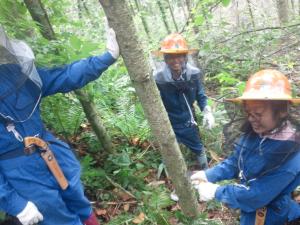 Description: This workcamp has been organized with Onuma Milestone 22, a local NGO made by President of Fishermenaeuros Cooperative and Director of international exchange association since 2004. Though Onuma lake has been a popular tourism spot for a long time because of its beautiful scenery, it has been polluted by over use of agricultural chemicals in cattle farming and erosion from abandoned forests with alien trees. President of Cooperative has bought a forest and wants to revive it to original nature with native trees Volunteers will work and live together with the mid term workcampers (Jul. 20-Sep. 16) which volunteers are also recruited.
Type of Work: Volunteers will 1) work in the forest (removing some alien conifer trees that disturb growth of other plants and animals, maintain the foot paths, etc.), 2) put many small stones on the shores of the small island in the lake to protect them from the waves caused by the motor boats, 3) remove the alien glasses and collect the garbage and 4) possibly promote to use eco sponges with which you can wash most of the dishes without using detergent.
Accommodation: Rooms of the apartment. Meals will be cooked by volunteers by turns. Sleeping bag is necessary. By the kind offer from the rental shop, each volunteer can use a bicycle that is very convenient to explore the area Wi-Fi is available at the visitor s center nearby.
Language: eng,
Requirements: Motivation to actively work for the protection of the forest and lake with local people
Approximate Location: Onuma is located in Nanae town in the southern Hokkaido island, 30-60 min. distance by train from Hakodate city which is famous for the romantic view in the night, especially for sweet couples