English Summer Camp In Kranjska Gora
Topic:
7: Children and youth
Work Types:
Language study
Number of places still available:
0
Free places last update:
12 Jun 2019
International age:
18 - 99
Required Language:
English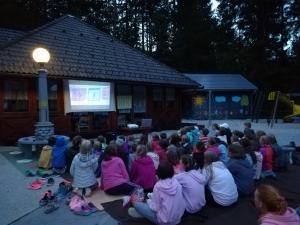 Description: Every year we organise an English Summer Camp for children, aged from 6 to 15 years. The main goal of the summer camp is to improve children's English vocabulary and conversational English through fun, sport and creative activities. If you think that you can handle and lead a small group of children for a week, make them feel comfortable and fun and you don't know your plans for this summer yet, we will be happy to host you in Kranjska Gora, Slovenia! Join us this summer and spend your holidays in the Triglav National Park, discover new people and experience Slovenia with a group of young and active team of Counsellors. We guarantee a great time!
Type of Work: - Taking care of a group of children (6 – 12) for a minimum of one week
Group supervision of campers with attention to all of the following: program, health, happiness, discipline, cleanliness, safety, routine duties, character and skill development
Help campers plan, carry out and evaluate projects and activities
Assist campers with housekeeping chores
Take turns with other counsellors for various responsibilities
Teach or assist with camp programs and encourage camper participation
Help develop, carry out and evaluate a camp program that reflects the goals of the camp
Accommodation: We provide the location, food (breakfast, snacks, lunch and dinner), friends and unforgettable memories. It's a great opportunity to learn new skills and strengthen the ones you have. Meet our leaders, new friends, campers, members, staff and volunteers and discover Kranjska Gora and Slovenia. We will provide a shared room with a shared bathroom (HOSTEL, the teachers share a room and a bathroom).