Never forget! (Dachau near Munich)
Topic:
1: Antiracism, antifascism, remembrance
Options:
Wheelchair Accessible
Work Types:
Study, discussion, research
Number of places still available:
4
Free places last update:
15 Jul 2019
International age:
18 - 26
Extra fee to be paid in the hosting country:
160.00 Euro
Breakdown:
Accommodation and food: 0.00 Euro
Transportation: 0.00 Euro
Activities: 0.00 Euro
Hosting organisation support: 160 Euro
Required Language:
English
Motivation letter:
This camp requires an additional motivation letter to explain in more detail why you would like to attend.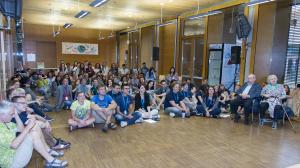 Description: The KZ Dachau was the first concentration camp built by Nazi Germany in March 1933. It was also used as a SS training center. More than 200,000 people from all over Europe were imprisoned here. Many prisoners died as a result of terror, inhuman forced labor, diseases, exhaustion, and hunger. The study camp will take place within the framework of the 'International Youth Meeting' (IYM), which takes place since 1983 and hosts around 120 teenagers and young adults from about 20 nations every year. In contrast to other workcamps, the main emphasis will be put on the studies in the camp.
Type of Work: The volunteers will learn about the history of National Socialism through communication with survivors and through active participation in workshops. Current political situations will also be discussed.
Study Theme: National Socialism and the concentration camp in Dachau; workshops within the framework of the IYM, tours of the memorial site, excursions, lectures.
Accommodation: Youth Guest House Dachau (4-bed-rooms), suitable for wheelchairs.
Requirements: Interest in taking part in workshops, working knowledge of English and/or German.
Approximate Location: Dachau is located close to Munich, capital of Bavaria. Bavaria has its very own unique culture, the inhabitants attach a great importance to their very own values, beliefs and traditions which distinguish them from the rest of Germany.
Notes: Volunteers will have to pay an extra fee of € 160, 00 upon arrival. Motivation letter is required for the participation!
Organization Description: This workcamp is organized by the German branch of Service Civil International (SCI). SCI Germany was founded in 1946 and is approved as a non-profit organisation. We are one of the oldest peace and volunteer organisations. SCI Germany aims to promote peace, non-violence, international solidarity, social justice, sustainable development and cross-cultural exchange through international voluntary work. We cooperate with a network of branches and partners in more than 90 countries. Every year, SCI Germany organizes about 50 international workcamps in Germany.