Do not Ignore - Defining the Concept of "Queer" (Berlin)
Topic:
6: Gender equality and sexuality
Work Types:
Social / Study, discussion, research
Number of places still available:
7
Free places last update:
29 Aug 2019
International age:
18 - 99
Required Language:
English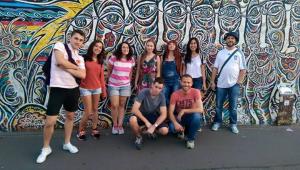 Description: With this project we, as a peace and volunteering organisation, want to raise the awareness of the suffering of a great number of young people in Russia, the Ukraine and in Germany, who experience discrimination, human rights abuses and social exclusion on a daily bases because of their sexual orientation. Especially in Russia and the Ukraine these problems are being denied, are kept secret or worse, the affected persons are being insulted or are attacked physically. The aim of the "Do not ignore" youth project is to raise public awareness and empathy for LGBTQ+ and promote a liberal attitude towards them through visual communication, advertising activities and digital campaigns.
Type of Work: The project contains of different theoretical and practical phases. After the participants learned more about LGBTQ+ and different advertising and campaign formats they will implement their own ideas and plans (e.g. create sketches, poster, stickers, banners etc.) and carry out BTL advertising activities as well as digital campaigns
Study Theme: - Definition of QUEER concepts through visual communication;
Theoretical inputs about the topic through specialist lectures and project visits;
Research of visual communication methods as effective instruments to counter stereotypes;
Analysis of effective promotional campaigns with similar goals;
Development of ideas for joint activities within the project;
Acquisition of practical knowledge and abilities to create pedagogical material about the topic.
Accommodation: Accommodation will be provided in a Hostel in Berlin-Kreuzberg in 6-bed and 8-bed rooms. You will be cooking for yourselves in the kitchen.
Requirements: Participants should have a strong interest in the main topic.
Approximate Location: The camp will take place in Berlin.
Notes: The results of the project will be uploaded on social media and will be used in other youth projects. Furthermore excursions and other tours are planned, to become familiar with the surroundings and the people on site.
Organization Description: This workcamp is organized by the German branch of Service Civil International (SCI). SCI Germany was founded in 1946 and is approved as a non-profit organisation. We are one of the oldest peace and volunteer organisations. SCI Germany aims to promote peace, non-violence, international solidarity, social justice, sustainable development and cross-cultural exchange through international voluntary work. We cooperate with a network of branches and partners in more than 90 countries. Every year, SCI Germany organizes about 50 international workcamps in Germany.