Boróka House – Common space for children and environment
Topic:
7: Children and youth
Work Types:
Teaching / Environment / Work with children
Number of places still available:
0
Free places last update:
17 Jun 2019
International age:
18 - 99
Required Language:
English
Spoken Language:
English, Hungarian
Motivation letter:
This camp requires an additional motivation letter to explain in more detail why you would like to attend.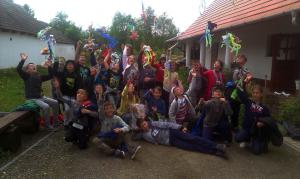 Description: Boróka House is located in Nógrád County in Diósjenő. The House works as a community place and child welfare center since 2015. The main focus of the association is to spread the idea of environmental protection and environmental awareness. Other important topics are cherished as well as traditions and community development. The House gives place regularly to traditional and handicraft workshops for the local people. One of the missions of the association is to give opportunity for the local, underprivileged children to get familiar with the topic of environmental protection through a non-formal way of education.
Type of Work: The volunteers will help with the ongoing children's camp, they will plan and organise activities for the children. In this period the camp is for children more than 12 years old and they will sleep there. During the children's camp volunteers will plan and help in the daily program of the camp and holding workshops. Besides the volunteers will help with physical work and with their creative ideas to improve the nature protection pathway in the garden with new elements. They will also help to improve and nurture the herb garden. The work will be mainly at the community house. In case of bad weather conditions the volunteers will take part some creative work with the children inside the building.
Study Theme: There will opportunities to learn about the local life and situation, the opportunities and difficulties of local families and youth. The volunteers will also learn about the SCI and its Hungarian branch, Útilapu Hálózat. The campleaders will share knowledge on short, medium and long term voluntary opportunities, in and outside of Europe. And of course, volunteers will be learning about other cultures, each other and themselves in funny and unexpected ways.
Accommodation: Accommodation will be optional: either in a big room or in a bigger or a smaller size tent. The house has a well-equipped kitchen ideal for big groups to cook, eat and spend time together. There is an outside oven as well. The volunteers will cook for themselves; they will have vegetarian ingredients,, unless there is a strong need for non-vegetarian food. There is an outside shower in the garden which is ideal in the hot summer, but in case of bad weather an indoor shower is also provided.
Language: English
Requirements: Please be prepared for the physical work and the living conditions! Bring some clothes which are good for gardening work, probably it will get dirty. Bring your own towel and a sleeping bag if it is possible - if not please let us know and we will get one for youWe expect to the volunteers will have motivation and interest in working with children.
Approximate Location: Please note that free time activities are partially covered by the organizers, apart from these activites others are depending on the volunteer's pocket money possibilities.
Please note, during the camp the volunteers will be in close touch to children and youngsters, therefore the consumption of any drugs, alcohol or tobacco is forbidden!
Notes: Boróka House gives opportunity to the local children and their families to get to know the diversity of the nature and the cultures in the world by ensuring theme focused free time activities. The workcamp and so the volunteers will help to broaden the knowledge of the local children about other cultures, about our world.
It is important that the volunteers should be open-minded, creative, self-sufficing and flexible who can adapt to changes and who like to work in a group. We expect you to contribute with your own ideas!Please write us a separate MOTIVATION LETTER to explain us why you find attractive participating in this camp and how you could support the succession of the camp and participate with your ideas to the programme with children!
Organization Description: Útilapu Hálózat is the Hungarian branch of Service Civil International (SCI), a volunteer organisation dedicated to promoting a culture of peace by organising international voluntary projects. Partner organizations of SCI are present in over 50 European, Asian, North-American and African countries. Útilapu was established by a group of enthusiastic youngsters in 1993 who had participated in SCI camps before. Our vision is a world of peace; social justice and sustainable development, where all people live together with mutual respect and without recourse to any form of violence to solve conflict. Our primary activity is organising summer voluntary camps in Hungary and sending Hungarian volunteers abroad. The participants of our workcamps come from all over the world and work together on a common project. In our workcamps, we put much emphasis on responding to local needs and making sure that our volunteers see the importance of their work. During the joint work and free time, volunteers discover each other's traditions, way of living, problems and ideas, form long-lasting friendships. Living and working together with people of different backgrounds help volunteers to break down barriers and prejudices. However, Útilapu is active throughout the whole year. We organize workshops, cultural events, meetings and we offer a broad list of training courses and seminars accessible for all. Every voluntary project, meeting, exchange or training course has to be in line with the values of volunteering, non-violence, Human Rights, solidarity, respect for the environment, inclusion, empowerment and cooperation.