Discover History and Preserve Remembrance (Lichtenburg Castle in Prettin)
Topic:
1: Antiracism, antifascism, remembrance
Special Topics:
No more war!
Work Types:
Art / Restoration, renovation / Study, discussion, research
Number of places still available:
1
Free places last update:
19 Jul 2019
International age:
18 - 99
Required Language:
English
Spoken Language:
English, German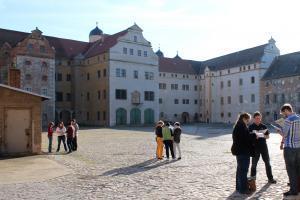 Description: In June 1933, shortly after the National Socialist takeover, a concentration camp was opened at the former renaissance palace in the middle of the small town Prettin. At first almost all political opponents were imprisoned, due to ideological and social biological reasons further people followed. The place was also used as an SS training center. From August 1937 it served as concentration camp for female prisoners, from 1941 to 1945 as satellite camp of Sachsenhausen concentration camp. From 1933 to 1945 more than 10 000 people were imprisoned there. Their daily life was characterized by hunger, mistreatments and bad hygienic conditions. The prisoners had to do forced labour. Almost the whole castle complex has been preserved.
Type of Work: Cleaning and maintenance of the former Roll Call Square and the "Bunker", a basement where inmates were punished and subjected to enhanced detention. Building furniture from europallets for the entrance of the memorial. Creating an art-project on living conditions in the former concentration camp. Preparing and realizing of a public event in the end of the camp.
Study Theme: History of the different concentration camps at Lichtenburg palace, perception of the memorial site among locals. A lot of contact and exchange with locals.
Accommodation: Large tents on a camping site, directly situated at a swimming lake, you need to bring your own sleeping bags, linen and pillows with you, camping beds will be arranged, self-sufficiency at a kitchen bungalow for the camp, there are bikes for all volunteers.
Requirements: Participants should be interested in history. Knowledge of German is an advantage but not necessary.
Approximate Location: Prettin is a small town with 2 000 inhabitants, located in Wittenberg district in Saxony-Anhalt, Germany (120 km southwest of Berlin). Today it belongs to Annaburg, which is 10 km far away. Prettin was first mentioned in 965. In the 16th century Lichtenburg renaissance palace was built on behalf of Elector August I of Saxony.
Notes: Good leisure time facilities, e.g. swimming, miniature golf, bowling, trips by bike along the river Elbe. A trip to Berlin is possible, knowledge of German is desirable. It is organized yet to make a trip to Lutherstadt-Wittenberg and to take part in a local dragon boat competition.
Organization Description: This workcamp is organized by the German branch of Service Civil International (SCI). SCI Germany was founded in 1946 and is approved as a non-profit organisation. We are one of the oldest peace and volunteer organisations. SCI Germany aims to promote peace, non-violence, international solidarity, social justice, sustainable development and cross-cultural exchange through international voluntary work. We cooperate with a network of branches and partners in more than 90 countries. Every year, SCI Germany organizes about 50 international workcamps in Germany.