Yurt Building - for Ecological and Fair Farming (Hennef-Hanf)
Topic:
10: Environment protection
Special Topics:
Climate for Peace Programme:
Work Types:
Agriculture / Construction / Manual
Number of places still available:
5
Free places last update:
05 Aug 2019
International age:
18 - 99
Required Language:
English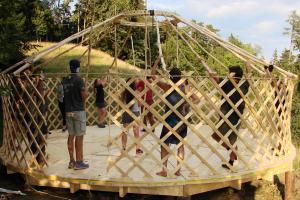 Description: An ecological farmyard with cows and vegetable cultivation is waiting for you! You will be helping building a yurt and learn a lot about the concept of community-supported agriculture, where all parties are sharing the harvest and the responsibility. The certified farm is located in the beautiful Hanfer Hof near the cities Bonn and Cologne. The farmer is committed to nature conservation and to climate protection and runs his farmyard ecologically. Here, cows are pasturing in the grassland as much as possible and are allowed to keep their horns, and the members of the community-supported agriculture harvest the vegetable, which later lands on their plates. The farmyard consists of grassland, farmland and woods as well as various conservation areas.
Type of Work: Together the volunteers will build a yurt out of natural resources. You will cut the rods for the yurt at a close spawn pond. The pond is protected, since it hosts rare animal and plant species. You will help taking care of the pond to maintain its biodiversity. Furthermore, together with the members of the community-supported agriculture you will work on the farmland and so will get in touch with local residents. You will also get to know the cows of the farm.
Study Theme: Next to the knowledge about how to build a yurt, you will learn about the following topics:
Ecological agriculture
Community-supported agriculture
Nature conservation
Climate protection
Accommodation: You will sleep in the straw. Sanitary facilities are close to the house. Please bring sleeping bags with you. Food will be prepared together by the volunteers. The provided ingredients will consist of the current harvest of the farm. You will see your food grow on the field, harvest and then cook it.
Requirements: You should be interested in ecological agriculture and in physical garden work and constructional work.
Approximate Location: Hanf is a district of the city of Hennef (Sieg) in the Rhein-Sieg district in North Rhine-Westphalia.
Notes: Trips to close nature conservation centres and to the cities Siegburg, Cologne and Bonn are possible. You can find more Information about the farmyard on this website (in German).
Organization Description: This workcamp is organized by the German branch of Service Civil International (SCI). SCI Germany was founded in 1946 and is approved as a non-profit organisation. We are one of the oldest peace and volunteer organisations. SCI Germany aims to promote peace, non-violence, international solidarity, social justice, sustainable development and cross-cultural exchange through international voluntary work. We cooperate with a network of branches and partners in more than 90 countries. Every year, SCI Germany organizes about 50 international workcamps in Germany.