InterCULTURgardening (Friedland near Göttingen)
Topic:
4: Peace and disarmament
Work Types:
Manual / Peace / Social
Number of places still available:
12
Free places last update:
22 May 2019
International age:
18 - 99
Extra fee to be paid in the hosting country:
0.00
Required Language:
English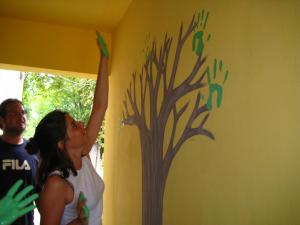 Description: Together with refugees you will work in the garden, design an entrance gate and create a creative cultural program where you will make music and be artistically active. Today up to 500 refugees live in a refugee camp in Friedland. Already after the 2nd World War the largest refugee camp in Germany was established there. In March 1946 the first workcamp of SCI Germany took place there in cooperation with the British SCI branch IVSP. Out of this engagement local volunteers founded SCI Germany. There is a community garden which serves as a meeting place between locals and refugees. There are fruit trees, berry bushes, vegetable and flower beds. At former SCI work camps they build community games like Buhl, TIK-TAK-TO. There is also a construction wagon and a barbecue area for joint meetings.
Type of Work: You work in a community garden near Friedland, where you take care of the garden, harvest fruit and berries, build new beds, take care of the beds and weed them. In addition, you will build a wooden entrance gate. You will also create a cultural program with the topic of identification, where you will make music, paint, sing, etc. This will be demonstrated at the summer festival, which will take place at the end of your work camp with interested locals and refugees. Furthermore you help with the implementation of the summer festival, e.g. with the setup and take-down.
Study Theme: We will deal with the topic of migration and refugeeism as well as their causes and effects. For this purpose you will visit a Museum Friedland and the refugee camp. Furthermore you will learn a lot about gardening.
Accommodation: We will be staying in the centre of the local sports club in Friedland with one big room for the group to sleep in and a community room including table soccer and a projector. WiFi is provided. Showers can be divided by genders, the dormitory room functions for all volunteers.
Requirements: You should be interested in manual work in a garden. Also, intercultural competencies will be important to interact with refugees. Your initiative and ideas to shape the garden will be appreciated.
Approximate Location: Friedland is a village of about 3000 inhabitants in the centre of Germany. It is located 8 minutes by train from Göttingen, an old university town and centre of culture.
Organization Description: This workcamp is organized by the German branch of Service Civil International (SCI). SCI Germany was founded in 1946 and is approved as a non-profit organisation. We are one of the oldest peace and volunteer organisations. SCI Germany aims to promote peace, non-violence, international solidarity, social justice, sustainable development and cross-cultural exchange through international voluntary work. We cooperate with a network of branches and partners in more than 90 countries. Every year, SCI Germany organizes about 50 international workcamps in Germany.