InterCULTURgardening (Friedland near Göttingen)
Topic:
4: Peace and disarmament
Work Types:
Art / Environment / Peace
Number of places still available:
6
Free places last update:
25 Jul 2019
International age:
18 - 99
Required Language:
English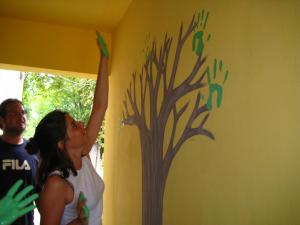 Description: Beautify the garden, make music and design artistically. This workcamp takes place in the community garden Friedland. It serves as a meeting place between locals and refugees. There are fruit trees, berry bushes, vegetable and flower beds. At earlier SCI work camps, community games such as Bool, TIK-TAK-TO etc. were built outside. In addition, a tiny house on wheels and barbecue area invite to joint meetings. Göttingen, a lively student city, is only 8 minutes by train from Friedland.
Type of Work: You work in a community garden outside Friedland, where you take care of the garden, harvest fruit and berries, take care and herd. In addition, a new wooden welcome gate will be built. At the same time, you will also participate in a cultural program on identification, where you will make music, paint and sing together with refugees. For the summer party at the end of your workcamp there will be a joint performance.
Study Theme: Migration and their causes and effects. For this purpose you will visit a museum in Friedland and the refugee camp. Furthermore you will learn a lot about gardening.
Accommodation: We will be staying in the centre of the local sports club in Friedland with one big room for the group to sleep in and a community room including table soccer and a projector. WiFi is provided. Showers can be divided by genders, the dormitory room functions for all volunteers.
Requirements: You should be interested in manual work in a garden. Also, intercultural competencies will be important to interact with refugees. Your initiative and ideas to shape the garden will be appreciated.
Approximate Location: Friedland is a village of about 3000 inhabitants in the centre of Germany. It is located 8 minutes by train from Göttingen, an old university town and centre of culture.
Organization Description: This workcamp is organized by the German branch of Service Civil International (SCI). SCI Germany was founded in 1946 and is approved as a non-profit organisation. We are one of the oldest peace and volunteer organisations. SCI Germany aims to promote peace, non-violence, international solidarity, social justice, sustainable development and cross-cultural exchange through international voluntary work. We cooperate with a network of branches and partners in more than 90 countries. Every year, SCI Germany organizes about 50 international workcamps in Germany.