Magical marquee (Romainmôtier-Envy VD)
Topic:
12: Art, culture and local history
Work Types:
Construction / Festival / Cultural heritage
Number of places still available:
0
Free places last update:
30 Jul 2019
International age:
18 - 99
Extra fee to be paid in the hosting country:
0.00
Required Language:
English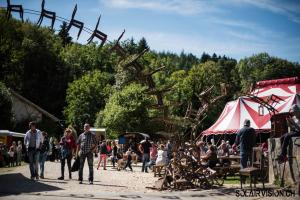 Description: Event dedicated to families, nature, street and theatre arts, music, dance and good locally-sourced foods...
10 years ago Jan Reymond constructed a beautiful traditionally made marquee using his woodworking skills, to host a small gathering. People were so impressed that the event was repeated, year after year since then.
The "Magical marque" is a joyous melting pot and meeting place: between its audience and artists from here and elsewhere, between different generations united by the various shows, and also between the various workers that inhabit the event.
It is a unique opportunity for intercommunity gatherings around artistic creations and gastronomy, where everything is set up to encourage and allow exchanges, in a timeless atmosphere that catalyzes creativity and sharing.
Type of Work: The event takes place every year, nestled in a clearing at the edge of the Nozon river.
Dozens of volunteers start working weeks in advance to transform the edge of the medieval village of Romainmôtier into a magical village to accommodate the few thousand visitors who will flock to the premises.
The type of work that the SCI volunteers would be involved in is mainly around building and taking down the various venue structures: various tents, tables, grounds covering, toilets, restaurant area, trailers, amongst other infrastructures. This entails mainly lifting and handling. Secondary tasks will take place where they are lodging, at natur'ailes, where essential oils are produced manually and naturally. The tasks will be around taking care of the plants.
Study Theme: Woodworking and landart (Jan Reymond) Medieval history linked to Romainmôtier (Jan Reymond) Events infrastructure organization (hands-on) Essential oils (from their lodger "Naturailes")
Accommodation: • Accommodation will be at the Natur'ailes venue. • Mattresses and mattress covers and blankets will be provided. The volunteers are expected to bring their bed sheets, or sleeping bags. • There is a toilet and a shared shower, common to all. • There is a washing machine, but only available when sunny as it's solar powered. • There is internet access (wifi) but low connection. It's ok to surf the net but not to stream videos. • The volunteers will normally have their meals prepared for them at the chapiteau venue.
Language: If you have some French skills this is ideal. The local language is French, but most speak English as a third language. Yes, the Swiss are quite multilingual !
Organization Description: SCI Switzerland is a non-profit-organisation which stands for intercultural exchange, sustainable development and non-violent conflict resolution. It is certified with the Intermundo-SQS-label, which guarantees high quality standards in youth exchange. SCI Switzerland has been organizing workcamps and long-term exchanges for volunteers worldwide since 1920. Each year, more than 100 volunteers from Switzerland engage in SCI projects abroad, while around 200 international volunteers work in projects in Switzerland. Swiss workcamps have a main focus on the work and exchange with children and youth living in asylum-seeking centres as well as environmental protection. In that line SCI Switzerland promotes a more environmental-friendly lifestyle in accordance with the goals of sustainable development. Therefore volunteers are expected to be aware of their environmental impact and encouraged to choose more eco-friendly means of transport. Please also check transportation costs within Switzerland before applying for our camps as this is expensive. Enter the place (to be found in the camp title) in the railway website www.sbb.ch. A participation in the camp from the first until the last day is needed for reason of instruction and group dynamic.